Tat Ali volcan
Mise à jour: 18 août. 2022 01:13 GMT -
Refresh
Shield volcano 700+ m / 2,297 ft
Ethiopia, 13.28°N / 41.07°E
Condition actuelle: normal / en sommeil (1 sur 5)
Montrer carte interactive
Style éruptif tipique:
unspecified
Eruptions du volcan Tat Ali:
unknown, no recent eruptions
Derniers séismes proches:
No recent earthquakes
Introduction
Tat Ali volcano is the dominant feature of the Tat Ali Range, east of Lake Afrera. The low Holocene shield volcano has an elongated summit depression and has produced a variety of rock types, ranging from basalts to pantellerites. NNW-SSE-trending fissures cutting the volcano have fed basaltic lava flows; those NE of Lake Afrera are of prehistorical age. Late-stage volcanism produced youthful basaltic lava flows on the floor of the summit depression, which is also the site of prominent fumarolic activity.
---
Smithsonian / GVP volcano information
Tat Ali Photos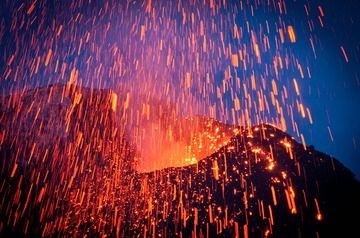 Feu d'artifice au Stromboli, un volcan actif en Italie.
La photo a été prise au printemps 2009 et montre une explosion du cratère nord-est du Stromboli dans le cré...
We do not tell you the secret about this tasty sweet made by Barbara in "Capitan Dimitris Tavern" at Acrotiri... (Photo: Tobias Schorr)
Greek & Santorinian sald - a delicious speciality! (Photo: Tobias Schorr)
Spaghetti al polipo - spaghetti with octopus: a specialty of Sicily (Photo: Tom Pfeiffer)

See also: Sentinel hub | Landsat 8 | NASA FIRMS