Karangetang Volcano Special
expedition to see the ongoing eruption of Karangetang volcano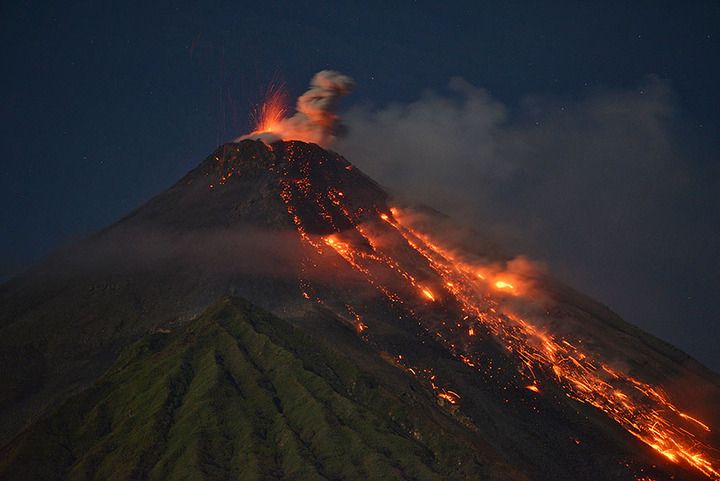 Karangetang in eruption (archive photo by Martin Rietze / mrietze.com)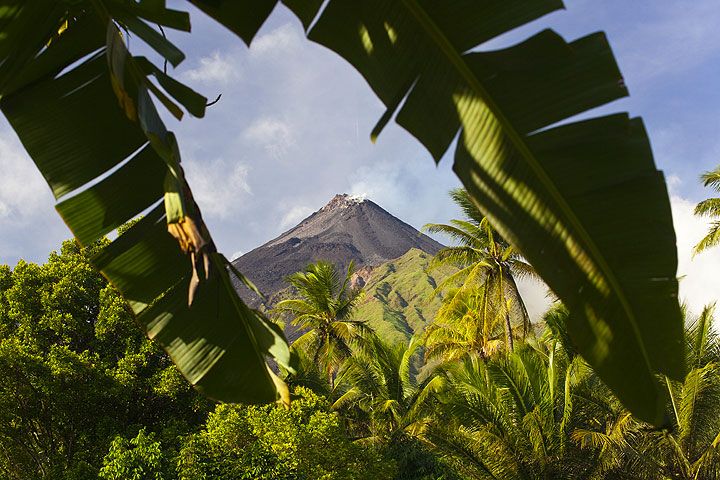 Karangetang volcano
The current eruption seen on satellite data (image: ESA)
A very interesting eruption is in progress at the remote volcano: since lat Nov 2018, a lava flow has been advancing slowly form the northern crater and has now reached the coast.
If you're ready to pack and leave on short notice, this adventurous tour might be for you, offering the best chance to see the eruption from close and with our most experienced expedition organizer in Indonesia.
ongoing eruption of Karangetang
big chances to see active lava flows
high level of adventure
volcano expert from our Indonesian team (Andi)
11-16 Feb 2019: Karangetang Volcano Special
J 1-6:

Karangetang Volcano Special 11-16 Feb 2019

day 1 (11 Feb): arrival in Manado airport(mdc) - transfer to hotel. Acc: hotel lion plaza

day 2: express ferry to Siau island (5 h) - observation to observatory post and Karangetang. acc: small hotel

day 3: Karangetang

day 4: Karangetang and surrounding islands

day 5: Karangetang in the morning - by ferry back to Manado. Acc: hotel as before

day 6 (16 Feb): Transfer out to airport of extension
Thème:
Aventure, Trek et Volcans: Volcans Actifs - Photographie - Aventure
Difficulté:
Facile
Groupe:
2-6
Durée:
7 days / 6 nights
Départs:
pas de groupe programmé pour le moment
Prix (p. p.): 1390 € $£¥
Le prix comprend:
VolcanoDiscovery expedition leader
All sea transfers from/to Manado
All land transfer (local transport in Siau)
Full board (meals and drinks)
Accommodation as described
Encadrement:
La tournée sera accompagnée / guidée sur place par l'un de nos guides professionnels les en Indonésie, en général Andi ou Lila. Ils ont une connaissance approfondie non seulement sur les volcans, mais aussi sur leur pays et leur culture.
Nos guides parlent tous anglais et indonésien, certains aussi français.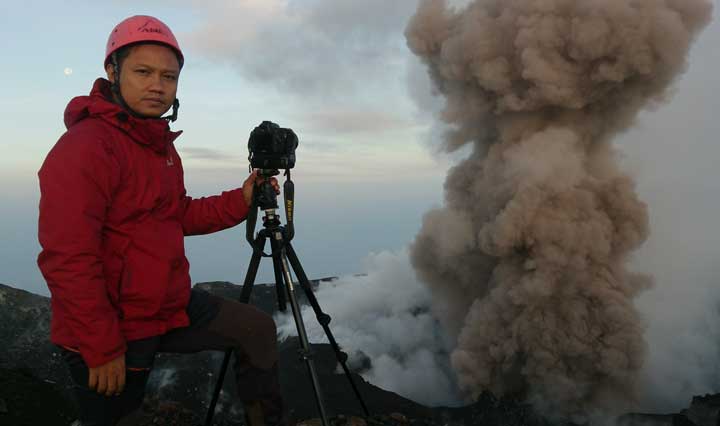 Andi Rosadi, our famous head expedition leader in Indonesia
Tour photos: