Turrialba volcan
Mise à jour: 6 juin. 2023 06:46 GMT
-
Stratovolcano 3340 m (10,958 ft)
Costa Rica, 10.03°N / -83.77°W
Condition actuelle: normal / en sommeil (1 sur 5)
Last update: 20 juil. 2022 (Smithsonian / USGS Weekly Volcanic Activity Report)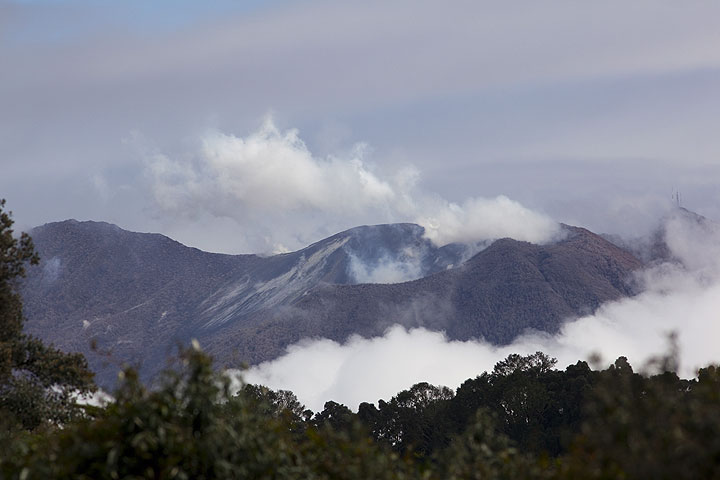 Turrialba volcano seen from Irazu
Turrialba (3340 m) is the easternmost of Costa Rica's active volcanoes. It is a large stratovolcano with a complex of 3 summit craters and its flanks mostly covered by farmland and forest. vegetation. After its previous eruption in 1866, signs of unrest started in 2006 and new phreatic activity began on Jan 4, 2010.
Montrer carte interactive
Style éruptif tipique:
Explosive.
Eruptions du volcan Turrialba:
1723(?), 1847(?), 1853, 1855, 1861(?), 1864-65, 1866, 2010 (Jan 4) - ongoing
Derniers séismes proches
Introduction
Turrialba is the easternmost of Costa Rica's active volcanoes and a large vegetated basaltic-to-dacitic stratovolcano. It is located opposite Irazú volcano, both being separated by a broad saddle.
Together with Irazú, Turrialba is one of Costa Rica's largest volcanoes. During the past 3500 years in prehistoric times, it has had at least 5 larger explosive eruptions. The top of Turrialba has 3 craters at the upper SW end of a broad 800 x 2200 m wide summit depression breached to the NE.
Eruptions from Turrialba occurred mostly from the summit craters, although two flank cones are found on the SW flank. During the 19th century, a few eruptions occurred that produced pyroclastic flows. Since an eruption in 1866 and until 2006, Turrialba was quiescent, but showed strong fumarolic activity at the central craters.
Since 2006, increased fumarolic and seismic activity were noted. On Jan 4, 2010, two new vents that later merged into a fissure aligned along the tectonic trend of the summit area opened in its western crater and started to erupt large amounts of sulphur dioxide gas and occasional lithic ash. This phreatic activity was accompanied by strong tremors and continued for a few days, but declined since Jan 8. Ash fall in the surroundings of the volcano and acid rain caused damage to agriculture and prompted evacuation of about 30 inhabitants living in the immediate vicinity of the volcano.


See also: Sentinel hub | Landsat 8 | NASA FIRMS
Voyages au volcan Turrialba
walking & study tour to Costa Rica's volcanoes
13 days / 12 nights - Facile-Modérée
Prix $ 4800
Départs sur commande possibles