Veniaminof volcano news & activity updates:
ven., 21 août 2020, 07:01
Veniaminof volcano from satellite on 18 August (image: Sentinel 2)
The Alaska Volcano Observatory (AVO) reported that the
seismic tremor
detected in June at the volcano
has continued intermittently, but with decreasing frequency
, and there have been no indications of surface change including increased temperatures or gas emissions. Tremor at the volcano in the past has sometimes preceded eruptions, but also can occur and persist for weeks to months and not result in an eruption. Current observations suggest activity has returned to near background, and thus the Aviation Color Code and the Volcano Alert Level are being decreased to Green/Normal.
Read more...
jeu., 30 juil. 2020, 21:58
The Alaska Volcano Observatory (AVO) report low-level seismic unrest at Veniaminof volcano continues. No explosive activity was detected by regional infrasound sensors. A small steam plume was observed in a partly cloudy satellite image.
ven., 19 juin 2020, 06:32
The Alaska Volcano Observatory (AVO) recorded periods of seismic tremor at the volcano over the past days associated with occasional earthquakes. Tremor has not shown significant variations.
Read more...
lire toutes
Plus sur VolcanoDiscovery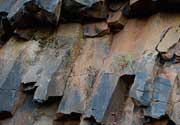 Igneous or magmatic rocks
: The most primitive rock type forms when magma (molten rock) solidifies - either inside the earth (plutonic rocks) or during volcanic eruptions (volcanic rocks). A short overview.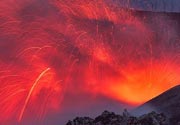 17 days volcano trekking
: This is one of our most exciting volcano tours! Halmahera, North Sulawesi and the Sangihe Islands are not only very scenic and interesting as well as nearly unspoiled by tourism, but also home to some of the country's most active (and often erupting) volcanoes, inclduing Dukono, Ibu, Lokon, Soputan and Karangetang.
Active volcanoes map
: Check which volcanoes are currently active (erupting). Our daily updated maps give a quick overview.