Arenal volcano (Costa Rica), eruption news: debris avalanche on 6 June
mar., 10 juin 2008, 11:42
11:42 AM |
As the Observatorio Vulcanológico y Sismológico de Costa Rica reports in a press bulletin, on Friday 06, June 2008 at 9:15am (15:15GMT) a large hot avalanche of unknown volume of blocky lava that had been accumulating at the summit since March 2007 rolled down the SW slopes of Arenal volcano, Costa Rica.
The present collapse provoked a scar of some 800m long from the summit to the bottom. Lose, dry, incandescent material was canalized down the slope conforming a wide chaotic fan, at aprox 900m asl. Material rolling down pulverized and generated a tall plume of gases and dust that provoked panic in tourists and park rangers located some 2 km away, on the W side.
Immediately the park was closed for the day and the tourists rapidly evacuated. No one was hurt. Dust and fine ashes deposited in a small area W and NW of the active flank. Rain rapidly diluted the fine film that was deposited on vegetation.
Sampling and measurements of the affected area was postponed for the next few days for safety reasons. It is believed that within the next few days the active lava flow may occupy the channel as it happened in several similar events observed in the past.
Finally, the affected sector does not offer a threat to visitors, park rangers or residents. On the contrary it is located in a safe remote sector of the volcano.
---
Source:
Actualités précédentes
Plus sur VolcanoDiscovery
Earthquake monitor
: Lists and maps of earthquakes in the world in near real time. Country lists, earthquake archive, and I-felt-it reports.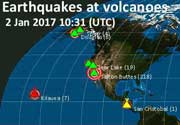 Earthquakes near Volcanoes
: Our world-wide map continuously detects shallow earthquakes near volcanoes. These could be early signs of unrest and often precede eruptions.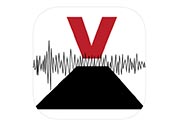 Volcanoes & Earthquakes
: Our popular app is now also available for iPhone and iPad! Get the latest volcano news and earthquakes world-wide - it's free!