Bulletin of World Volcanism March 2013 - summary of volcano activity worldwide
mer., 3 avril 2013, 21:15
21:15 PM |
Bulletin of World Volcanism March 2013 - cover
Bulletin of World Volcanism March 2013 - VolcanoExpress
The
Bulletin of World Volcanism March 2013
is out (
download
).
It contains a reviewed summary of volcano activity during the past month, plus the new
Volcano Express
section with interesting articles on Machin and Chaiten volcanoes and a review of the pubvolc website.
TABLE OF CONTENTS:
----------------------------------
NEW ACTIVITY/UNREST
White Island (New Zealand) - Ruapehu (New Zealand) - Aoba (Vanuatu) - Krakatau (Indonesia) - Tangkubanparahu (Indonesia) - Dieng Volcanic Complex (Indonesia) - Ijen (Indonesia) - To-Shima (Japan) - Grozny Group (Russia) - Pacaya (Guatemala) - Telica (Nicaragua) - Sabancaya (Peru) - Laguna del Maule (Chile/Argentina) - Hekla (Iceland) - Askja (Iceland)
CONTINUING ACTIVITY
Etna (Italy) - Stromboli (Italy) - Heard (Australia) - Manam (Papua New Guinea) - Rabaul (Papua New Guinea) - Bagana (Papua New Guinea) - Paluweh (Indonesia) - Batu Tara (Indonesia) - Sakura-Jima (Japan) - Chirpoi (Russia) - Karymsky (Russia) - Kizimen (Russia) - Tolbachik (Russia) - Shiveluch (Russia) - Colima (Mexico) - Popocatepetl (Mexico) - Santa Maria (Guatemala) - Fuego (Guatemala) - Nevado del Ruiz (Colombia) - Galeras (Colombia) - Reventador (Ecuador) - Tungurahua (Ecuador)
VolcanoExpress
Could Machin be the Next Pinatubo?
Chaiten, Is It More Active Than We Thought?
Indonesia Need's Better Volcano Monitoring
Website of the Month: Pubvolc.net
BULLETIN INFORMATION
Writer (s); Lucas Wilson [Editor]
volcanismbulletin.org
Actualités précédentes
Plus sur VolcanoDiscovery
If you find the website useful and would like to support us and help keep it alive and improve it, please consider
making a small donation
.
Thank you!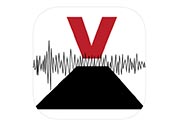 Volcanoes & Earthquakes
: Our popular app is now also available for iPhone and iPad! Get the latest volcano news and earthquakes world-wide - it's free!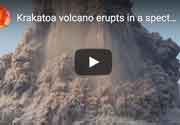 Krakatoa explodes
: In the afternoon of 17 Oct, a particularly violent explosion occurred at Anak Krakatau, blasting away a portion of the southern crater rim. A similar event might have been the final trigger for the catastrophic landslide that let the cone collapse and cause a devastating tsunami on 22 Dec 2018.