Ol Doinyo Lengai volcano (Tanzania): eruption details
More detailed information about the recent activity at Lengai has emerged: there was probably no explosive eruption as reported earlier, but one or two very large effusive paroxysms: the first eruption occurred on 29 March, the second probably on 3 April. The eruptions produced large-volume natrocarbonatite lava flows that overflowed the crater to the West near the climbing route, travelled for more than 1 km length through a small canyon before stopping less than two km from a Maassai village at the base of the mountain.
Buring vegetation ignited by the lava might have produced smoke that had been mistaken for ash. No evacuations have taken place and no one has left the area, different from early news reports.
A good collection of reports and photos about the eruption can be found at Fred Belton's website.
Actualités précédentes
Plus sur VolcanoDiscovery
If you find the website useful and would like to support us and help keep it alive and improve it, please consider
making a small donation
.
Thank you!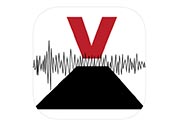 Volcanoes & Earthquakes
: Our popular app is now also available for iPhone and iPad! Get the latest volcano news and earthquakes world-wide - it's free!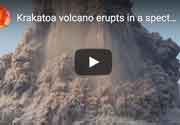 Krakatoa explodes
: In the afternoon of 17 Oct, a particularly violent explosion occurred at Anak Krakatau, blasting away a portion of the southern crater rim. A similar event might have been the final trigger for the catastrophic landslide that let the cone collapse and cause a devastating tsunami on 22 Dec 2018.