Arenal volcano (Costa Rica), eruption update: mild strombolian activity
In February, activity originating from Arenal's Crater C consisted of gas emissions, sporadic Strombolian eruptions, lava flows traveling N, and occasional avalanches from lava-flow fronts. Blocks from the lava-flow fronts traveled N, NE, and NW, periodically reaching vegetation where they started small fires. Volcanic activity was at relatively low levels, however, with few eruptions occurring and a small amount of pyroclastic material ejected.
Eruptions produced ash plumes that rose about 2.2 km (7,100 ft) a.s.l. Ash and acid rain fell on the NE and SE flanks. Small avalanches of volcanic material traveled down several ravines. Crater D showed only fumarolic activity.
---
Source: Observatorio Vulcanológico y Sismológico de Costa Rica-Universidad Nacional (OVSICORI-UNA) http://www.ovsicori.una.ac.cr/ via GVP/USGS Weekly Volcanic Activity Report 7-13 March 2007



Actualités précédentes
Plus sur VolcanoDiscovery
Earthquake monitor
: Lists and maps of earthquakes in the world in near real time. Country lists, earthquake archive, and I-felt-it reports.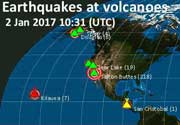 Earthquakes near Volcanoes
: Our world-wide map continuously detects shallow earthquakes near volcanoes. These could be early signs of unrest and often precede eruptions.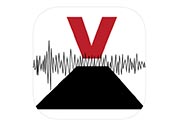 Volcanoes & Earthquakes
: Our popular app is now also available for iPhone and iPad! Get the latest volcano news and earthquakes world-wide - it's free!