Volcano W volcan
Mise à jour: 1 juil.. 2022 04:46 GMT -
Refresh
Submarine volcanoes -900? m / - 2,953 ft
New Zealand, Kermadec Islands, -31.85°S / -179.18°W
Condition actuelle: normal / en sommeil (1 sur 5)
Montrer carte interactive
Style éruptif tipique:
unspecified
Eruptions du volcan Volcano W:
unknown, no recent eruptions
Derniers séismes proches:
No recent earthquakes
Introduction
Twin submarine volcanoes, known informally as Volcano W, were discovered during a New Zealand-American submarine vent mapping expedition to the Kermadec arc in 2004. The two deep-water basaltic volcanoes lie SW of Curtis Island. The summits of both volcanoes are cut by small calderas, and evidence of diffuse hydrothermal venting was observed on the SE volcano in 2005. The SE volcano rises to within about 900 m of the sea surface and contains a cone in its summit caldera. The caldera walls expose pillow lavas, pillow tubes, localized sheet flows, and pillow breccias, with higher proportions of volcaniclastic breccias in the upper portion.
---
Smithsonian / GVP volcano information
Volcano W Photos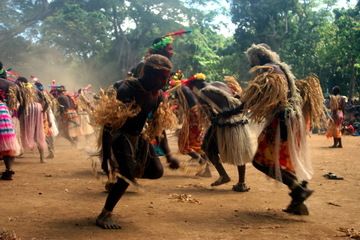 Danse traditionnelle représentant des combats lors de la cérémonie du TOKA sur l'île de Tanna fin septembre 2010 (Yashmin Chebli, Volcano Discovery) (Photo: Yashmin Chebl...
Peinture traditionnelle sur un visage. cérémonie du TOKA sur l'île de Tanna fin septembre 2010 (Yashmin Chebli, Volcano Discovery) (Photo: Yashmin Chebli)

See also: Sentinel hub | Landsat 8 | NASA FIRMS