West Crater volcan
Mise à jour: 14 août. 2022 21:57 GMT -
Refresh
champ volcanique 1329 m / 4,360 ft
Washington State (Canada and USA (mainland)), 45.88°N / -122.08°W
Condition actuelle: normal / en sommeil (1 sur 5)
West Crater volcano is a small andesitic lava dome with lava flows in southern Washington, belonging to a volcanic field extending from Marble Mountain, north of Swift Reservoir, to south of Trout Creek Hill. The field consists mainly of small basaltic and basaltic andesite cinder cones and small shield volcanoes, oriented along a NW-SE zone SE of Mount St. Helens.
The most recent activity occurred about 8,000 years ago and formed the West Crater lava dome, a small cone at Hackamore Creek, and a phreatic crater at the summit of Bare Mountain.
The older, basaltic Trout Creek Hill shield volcano erupted a lava flow about 340,000 years ago that traveled 20 km SE and temporarily dammed the Columbia River.
Montrer carte interactive
Style éruptif tipique:
Explosive
Eruptions du volcan West Crater:
ca. 8000 years ago
Derniers séismes proches:
No recent earthquakes
West Crater Photos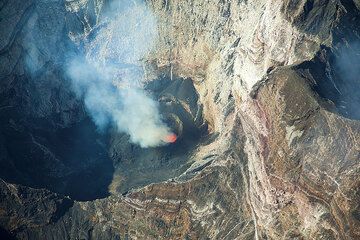 Vue claire sur le lac de lave dans le Marum (cratère ouest). (Photo: Tom Pfeiffer)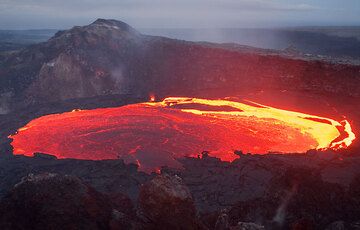 Lac de lave à l'intérieur du cratère de Gap ouest du volcan Kilauea. La croûte entière couvrant le lac a juste été renversée, exposant l'intérieur éclatant de red hot. ha...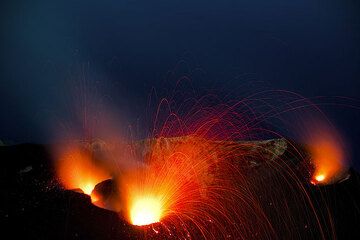 Éruption lumineuse du cratère central et rougeoyante du NE évent (r), et une plus petite éruption de l'évent de l'ouest (l). (Photo: Tom Pfeiffer)
Le lac de lave dans le cratère ouest du Marum (Photo: Tom Pfeiffer)

See also: Sentinel hub | Landsat 8 | NASA FIRMS