Fuego volcano news & eruption updates:
Fuego Volcano Volcanic Ash Advisory: CONT LGT VA EMS OBS to 15000 ft (4600 m)
Wed, 16 Dec 2020, 15:45
15:45 PM | BY: VN
Explosive activity continues. Volcanic Ash Advisory Center (VAAC) Washington warned about a volcanic ash plume that rose up to estimated 15000 ft (4600 m) altitude or flight level 150 and is moving at 5 kts in N direction.
The full report is as follows:
FVXX22 at 15:29 UTC, 16/12/20 from KNES
VA ADVISORY
DTG: 20201216/1526Z
VAAC: WASHINGTON
VOLCANO: FUEGO 342090
PSN: N1428 W09052
AREA: GUATEMALA
SUMMIT ELEV: 12346 FT [3763 M]
ADVISORY NR: 2020/501
INFO SOURCE: GOES-16. NWP MODELS. VOLCAT.
ERUPTION DETAILS: CONT LGT VA EMS OBS
OBS VA DTG: 16/1525Z
OBS VA CLD: SFC/FL150 N1451 W09047 - N1429 W09053
- N1450 W09058 - N1451 W09047 MOV N 5KT
FCST VA CLD +6HR: 16/2130Z SFC/FL150 N1452 W09048
- N1428 W09053 - N1450 W09059 - N1452 W09048
FCST VA CLD +12HR: 17/0330Z SFC/FL150 N1451
W09059 - N1451 W09047 - N1429 W09053 - N1451
W09059
FCST VA CLD +18HR: 17/0930Z NO VA EXP
RMK: CONT LGT VA EMS OBS MOV N FM SUMMIT. VA FCST
TO CONT MOV N THRU T+12HRS BEFORE DISP. NWP
MODELS SHOW SOME VAR. FCST CONFIDENCE LOW.
...FISHER
NXT ADVISORY: WILL BE ISSUED BY 20201216/2130Z
More on VolcanoDiscovery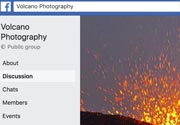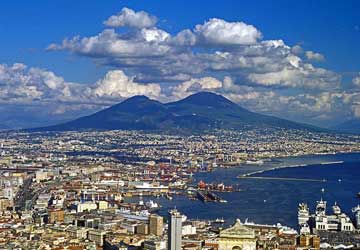 One of the world's most famous volcanoes looming over the City of Naples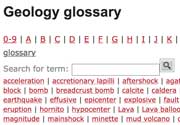 Glossary of geologic terms
: A growing list of often illustrated explanations and definitions of geological terms and keywords, with focus on volcanology and seismology.