Fuego volcano news & eruption updates:
Fuego Volcano Volcanic Ash Advisory: CONS VA EMS SEEN IN STLT. to 15000 ft (4600 m)
Fri, 5 Feb 2021, 00:15
00:15 AM | BY: VN
Explosive activity continues. Volcanic Ash Advisory Center (VAAC) Washington warned about a volcanic ash plume that rose up to estimated 15000 ft (4600 m) altitude or flight level 150 .
The full report is as follows:
FVXX23 at 00:14 UTC, 05/02/21 from KNES
VA ADVISORY
DTG: 20210205/0011Z
VAAC: WASHINGTON
VOLCANO: FUEGO 342090
PSN: N1428 W09052
AREA: GUATEMALA
SUMMIT ELEV: 12346 FT [3763 M]
ADVISORY NR: 2021/099
INFO SOURCE: GOES-16. WEBCAM. NWP MODELS.
ERUPTION DETAILS: CONS VA EMS SEEN IN STLT.
OBS VA DTG: 04/2330Z
OBS VA CLD: SFC/FL150 N1429 W09053 - N1427 W09052
- N1419 W09100 - N1425 W09104 - N1429 W09053 MOV
SW 5KT
FCST VA CLD +6HR: 05/0530Z SFC/FL150 N1429 W09053
- N1427 W09052 - N1414 W09058 - N1420 W09106 -
N1429 W09053
FCST VA CLD +12HR: 05/1130Z NO VA EXP
FCST VA CLD +18HR: 05/1730Z NO VA EXP
RMK: VA SEEN IN WEB CAM AND STLT IMAGERY MOVG SW
AND EXTDG ARND 10 NM FM SUMMIT. WIND ARE LGT AND
VAR SO CONFIDENCE IN FCST AT T+6 HRS IS LOW.
...KIBLER
NXT ADVISORY: WILL BE ISSUED BY 20210205/0615Z
More on VolcanoDiscovery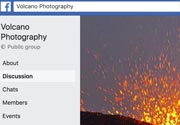 Green Volcanoes
: The Azores, a cluster of volcanic islands in the Atlantic Ocean, are famous for their very pleasant climate, breathtaking green and unspoiled landscapes and nature. They also have deep history and you'll find warm hospitality. Our new tour, guided by a photographer and volcanologist, will lead to five islands: Sao Miguel, Faial, Terceira, Pico and Flores - each with its distinct character to discover.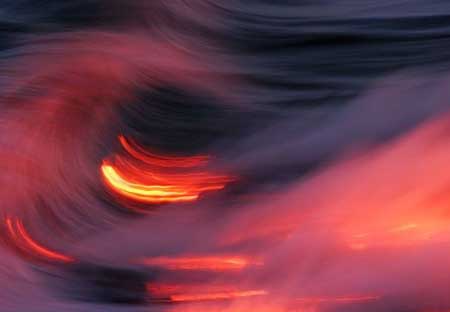 Photos from Kilauea volcano: lava flowing into the sea