Fuego volcano news & eruption updates:
Fuego volcano (Guatemala) activity update
Tue, 27 May 2014, 15:36
15:36 PM | BY: T
Explosive activity has been weaker recently, with pulses of strombolian explosions ejecting incandescent material to up to 100 m above the crater. Effusive activity continued to feed the lava flow towards Barranca Taniluyá. This morning, it was still about 100 m long.
Previous news
More on VolcanoDiscovery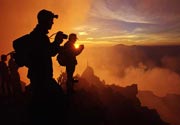 Volcano Trekking
: A physically active tour to visit and climb some of Indonesia's most active and famous volcanoes: Papandayan and Galunggung in West Java, Merapi in Central Java, Kelud, Semeru, Bromo, the Tengger caldera, and Ijen in East Java.