Geology glossary
Volcanology

Black volcanic glass

Obsidian is a naturally occurring glass formed as an extrusive igneous rock. It is produced when felsic lava extruded from a volcano cools rapidly through the glass transition temperature and freezes without sufficient time for crystal growth. Obsidian is commonly found within the margins of rhyolitic lava flows known as obsidian flows, where cooling of the lava is rapid. Because of the lack of cr...

-> See whole entry

Minerals

Olivine from basalt lava on Hawai'i (image: By incidencematrix - Basalt with Olivine, CC BY 2.0, Link)

Olivine is one of the earth's most common rock-forming silicate minerals, typically contained in mafic to ultrafafic magmatic rocks with low silica content (e.g. basalt, gabbro, peridotite), which make up much of the earth's upper mantle, the oceanic crust and lava flows etc from basaltic shield volcanoes on land. Its name refers to its often olive-green color.

| | |
| --- | --- |
| Name | olivine |
| Category | |
| Formula | (Mg2+, Fe2+)2SiO4 |
| Crystal system | orthorhombic |
| Color | Yellowish-green to olive green |
| Streak | None |
| Luster | Vitreous |
| Crystal habit | Massive to granular |
| Mohs hardness | 6.5–7 |
| Specific weight | 3.2-4.5 |
| Uses | |
| Other | |

Chemically, it combines two interchangeable ions of magnesium (Mg2+) or iron (Fe2+) with one silica ion (Si4+) in a densely-packed crystal lattice. The two end-members from this compositional range are forsterite (magnesium-olivine, Mg2SiO4) and and fayalite (iron-olivine, Fe2SiO4). In rare cases, Mg/Fe can also be replaced by calcium (Ca), manganese (Mn), or nickel (Ni).

-> See whole entry
More on VolcanoDiscovery
If you find the website useful and would like to support us and help keep it alive and improve it, please consider
making a small donation
.
Thank you!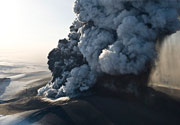 Eyjafjallajökull volcano photos
: The volcano in Iceland with the unpronounceable name... but famous in 2010 when its ash clouds drifted over Europe and forced a unprecedented large-scale airspace closure for several days, stranding millions of passengers.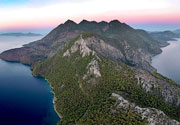 Land of Theseus
: The Saronic Gulf opposite Athens is one of the most beautiful and interesting areas of Greece, full of beautiful landscapes, small towns, islands, archeological remains and one of Europe's least known active volcanic areas. Join us on a relaxing tour to discover this fascinating area!
The term for all fine-grained volcanic products fragmented during explosive eruptions.