Geology glossary
Volcanology

A type of highly viscous magma with high silica content; it is found as pumice (in airfall deposits or ignimbrites), lava or obsidian. Rhyolite is also the name given to the volcanic rock formed from rhyolitic magma.
More on VolcanoDiscovery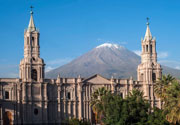 Volcanoes of Peru
: Our 12-days itinerary includes some of the most beautiful and interesting sights around Arequipa from "volcanic point of view": La Laguna de Salinas, El Misti, Ubinas, Picchu Picchu, Andagua Valley, Colca Canyon, and currently erupting Sabancaya volcano.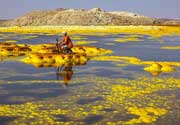 Types of tours
: We offer a broad variety of tours to volcanic areas: volcano expeditions and specials, discovery tours with hiking, photography, nature and culture, pilot tours and private custom tours.