Gilbert volcano
Stratovolcano 818 m / 2684 ft
Aleutian Islands, United States, 54.25°N / -165.65°W
Current status
: (probably) extinct (0 out of 5) |
Reports
Gilbert volcano books
Typical eruption style
: unspecified
Gilbert volcano eruptions
: None during the past 10,000 years
Less than few million years ago (Pleistocene)
| | | | |
| --- | --- | --- | --- |
| Time | Mag. / Depth | Distance | Location |
Background:
Mount Gilbert is deeply eroded and an area of former solfataric activity appears to have been glaciated. Solfataric activity had ceased between 1942 and 1945 (Byers and Barth 1953).
---
Source: Smithsonian / GVP volcano information
See also:
Sentinel hub
|
Landsat 8
More on VolcanoDiscovery: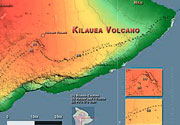 A violent vulcanian-type explosion from Anak Krakatau in pictures step by step.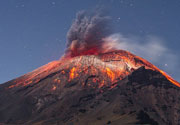 Popocatépetl Volcano Special
: The activity of Mexico's most active and largest volcano has been picking up gradually during the past months. If you like to join a small group of volcano enthusiasts, join us, stay 5 nights near the volcano and move around for extended day- and night-time observation.