Hane-yama volcano
Updated: Aug 17, 2022 22:26 GMT -
Refresh
Shield 1140 m / 3740 ft
Japan, 33.23°N / 131.13°E
Current status: (probably) extinct (0 out of 5)
Typical eruption style:
unspecified
Hane-yama volcano eruptions:
None during the past 10,000 years
Less than few million years ago (Pleistocene)
Lastest nearby earthquakes:
No recent earthquakes
Background
Hane-yama and Kameishi-yama are rhyolitic and dacitic volcanoes dated between 0.6 and 0.5 million years (Nakano et al., 2005).
---
Source: Smithsonian / GVP volcano information
Hane-yama Photos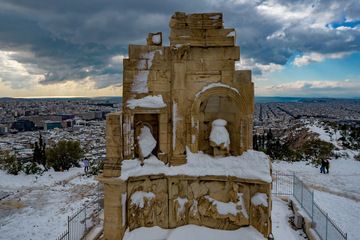 The famous ancient Greek mausoleum and monument, dedicated to Gaius Julius Antiochus Epiphanes Philopappos opposite to the Acropolis hill in Athens. (Photo: Tobias Schorr...

See also: Sentinel hub | Landsat 8 | NASA FIRMS