Eyafjallajökull volcano
Updated: Jan 29, 2023 12:39 GMT
-
Stratovolcano 1666 m (5,466 ft)
Iceland, 63.63°N / -19.62°W
Current status: normal or dormant (1 out of 5)
Last update: 10 Jun 2022 (Volcanic Ash Advisory)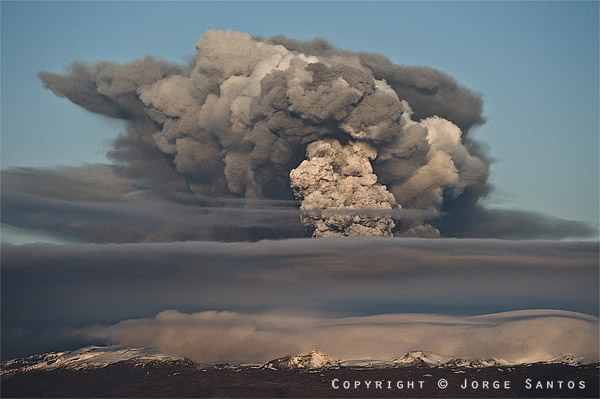 The ash cloud from erupting Eyafjallajökull volcano, which spread over Europe in mid April and led to an unprecedented closure of airspace for almost 7 days over almost all of Europe
Eyafjallajökull volcano (its name meaning Island-Mountain under a glacier) under the small homonymous glacier in southern Iceland erupted spectacularly on 20 March 2010, after having been dormant for almost 200 years. During its most violent phase, the subglacial eruption produced large ash plumes that drifted over Europe and forced an unprecedented closure of airspace over most of Europe for several days in mid April 2010.
Typical eruption style:
Effusive (Hawaiian-style lava fountains and lava flows), mildly explosive due to ice-water-lava interaction.
Eyafjallajökull volcano eruptions:
1821-23, 20 March - June 2010
Latest nearby earthquakes
Time
Mag. / Depth
Distance/Location
Sunday, January 29, 2023 GMT (2 quakes)
Jan 29, 2023 7:55 am (GMT +0)

(Jan 29, 2023 07:55 GMT)




2.7


0.1 km
21 km (13 mi)
Iceland: 3.0 Km ESE of Goðabunga
Jan 29, 2023 7:55 am (GMT +0)

(Jan 29, 2023 07:55 GMT)




2.7


0.1 km
21 km (13 mi)
Iceland: 3.0 Km ESE of Goðabunga
Background
Eyjafjöll, located immediately west of Katla volcano, consists of an E-W-trending, elongated ice-covered basaltic-andesite stratovolcano with a 2.5-km-wide summit caldera.
Fissure-fed lava flows occur on both the eastern and western flanks of the volcano, but are more prominent on the western side. Although the 1666-m-high volcano has erupted during historical time, it has been less active than other volcanoes of Iceland's eastern volcanic zone, and relatively few Holocene lava flows are known. The sole historical eruption of Eyjafjöll, during December 1821 to January 1823, produced intermediate-to-silicic tephra from the central caldera.
---
Source: GVP, Smithsonian Institute
Eyafjallajökull Photos
| | |
| --- | --- |
| The ash plume generated by Eyafjallajökull's eruption in April 2010. (Photo: Jorge Santos) | The ash plume generated by Eyafjallajökull's eruption in April 2010. (Photo: Jorge Santos) |
| The ash plume generated by Eyafjallajökull's eruption in April 2010. (Photo: Jorge Santos) | The ash plume generated by Eyafjallajökull's eruption in April 2010. (Photo: Jorge Santos) |



See also: Sentinel hub | Landsat 8 | NASA FIRMS