Iizuna volcano
Stratovolcano 1917 m / 6289 ft
Honshu, Japan, 36.74°N / 138.14°E
Current status
: (probably) extinct (0 out of 5) |
Reports
Iizuna volcano books
Typical eruption style
: unspecified
Iizuna volcano eruptions
: None during the past 10,000 years
Less than few million years ago (Pleistocene)
| | | | |
| --- | --- | --- | --- |
| Time | Mag. / Depth | Distance | Location |
Background:
Iizuna stratovolcano south of Kurohime volcano was active about 0.34-0.15 million years ago (Nakano et al., 2001-).
---
Source: Smithsonian / GVP volcano information
See also:
Sentinel hub
|
Landsat 8
More on VolcanoDiscovery
If you find the website useful and would like to support us and help keep it alive and improve it, please consider
making a small donation
.
Thank you!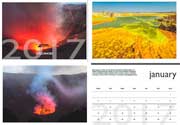 Volcano Calendar 2017
: We're proud to present our 2017 volcano calendar: 13 different and attractive images of volcanoes, volcanic landscapes and phenomena taken during volcano tours over the past few years.
Volcano and photo tour to Java, Indonesia
: Visit Java's famous volcanoes: Krakatau, Merapi, Bromo, Semeru, Ijen and others, crossing Java from west to east. This study and photography trip for a small exclusive group is one of our classic and best tours.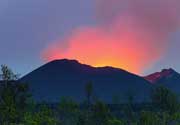 Nyamuragira volcano photos
: Africa's version of Mauna Loa, Nyamuragira (or Nyamulagira) is a massive basaltic shield volcano neighboring Nyiragongo. It is one of the most active volcanoes in the world and has voluminous eruptions every few years.