Ischia volcano
stratovolcano, lava domes, cinder cone 790 m
Italien, 40.73°N / 13.9°E
Current status: normal or dormant (1 out of 5)
The Ischia volcanic complex forms a rectangular, 6 x 9 km island immediately SW of the Campi Flegrei area at the western side of the Bay of Naples.
Typical eruption style
: Explosive
Ischia volcano eruptions
: 1302 AD
Latest nearby earthquakes
Time
Mag. / Depth
Distance/Location
Tue, 22 Jun 2021 (GMT) (2 earthquakes)
22 Jun 2021 10:29:23 GMT


0.3


0.1 km
46 km (29 mi)
Italy: Vesuvio Area
22 Jun 2021 02:01:28 GMT


0.4


1.7 km
22 km (14 mi)
Italy: Campi Flegrei Area
Mon, 21 Jun 2021 (GMT) (1 earthquake)
21 Jun 2021 11:28:19 GMT


0.3


0.6 km
46 km (29 mi)
Italy: Vesuvius Area
Sun, 20 Jun 2021 (GMT) (1 earthquake)
20 Jun 2021 01:00:59 GMT


1.5


0.1 km
46 km (29 mi)
6.3 km northeast of Torre del Greco, Naples, Campania, Italy
Sat, 19 Jun 2021 (GMT) (1 earthquake)
19 Jun 2021 18:27:41 GMT


1.7


2.3 km
24 km (15 mi)
4.7 km west of Fuorigrotta, Naples, Campania, Italy
Background
The eruption of the trachytic Green Tuff ignimbrite about 55,000 years ago was followed by caldera formation. The high point on the island, 789-m-high Monte Epemeo, is a volcanic horst composed of the Green Tuff ignimbrite deposit that was submerged after its eruption and then uplifted. Volcanism on the island has been significantly affected by tectonism that formed a series of horsts and grabens; at least 800 m of uplift has formed as a result of resurgent doming during past 33,000 years. Many small monogenetic volcanoes were formed around the uplifted block. Volcanism during the Holocene produced a series of pumiceous tephras, tuff rings, lava domes, and lava flows. The latest eruption of Ischia, in 1302 AD, produced a spatter cone and the Arso lava flow, which reached the NE coast. Source: Smithsonian GVP
Ischia Photos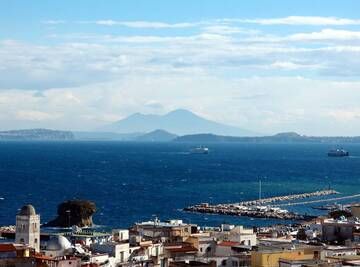 The Gulf of Naples and Vesuvius seen from Ischia island, Italy (Photo: Janka)
Sunset over the bay of Sant'Angelo in the southern part of Ischia island, Italy (Photo: Janka)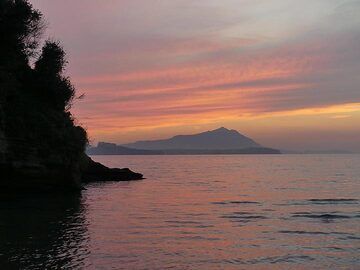 Pink and orange sky above the Phlegraean islands of Procida (central flat silhouette with building to the left) and Ischia (silhouette in the background with small mounta...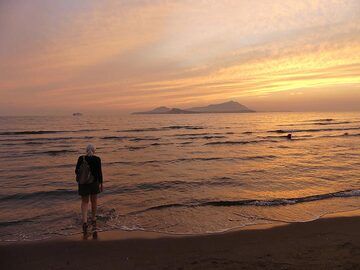 The sand beach at Miseno in the golden light of sunset, looking towards the volcanic islands of Procida (centre foreground) and Ischia (double hill silhouette in centre b...

See also: Sentinel hub | Landsat 8