Unnamed 21.38°S/175.65°W vulcano
Submarine volcano -500? m / - 1,640 ft
Tonga, Tonga Islands, -21.38°S / -175.65°W
Stato attuale: normal or dormant (1 di 5)
Stile eruttivo tipico
: non specificato
Eruzioni del vulcano Unnamed 21.38°S/175.65°W
: 1932
Latest nearby earthquakes
| | | | |
| --- | --- | --- | --- |
| Data / ora | Mag. / Profondità | Distanza | Ubicazione |
Sfondo
During an eruption in 1907 from an unnamed submarine volcano pyroclastic material was ejected to 100 m above the sea surface, and pumice rafts were produced. The eruption was approximately located on Admiralty Chart 2421 at a point 48 km SW of Tongatapu Island, along the Tofua volcanic arc. Tongatapu is located at the southern end of a chain of coral islands paralleling the Tofua volcanic arc on its eastern side. The reported location of the 1907 eruption corresponds to sloping terrain at 1800 m depth on a 1982 bathymetric map, but a seamount of about 500 m depth is located about 10 km to the NE. A second eruption from this area was reported in late 1932.
---
Smithsonian / GVP volcano information
See also:
Sentinel hub
|
Landsat 8
Piu su VolcanoDiscovery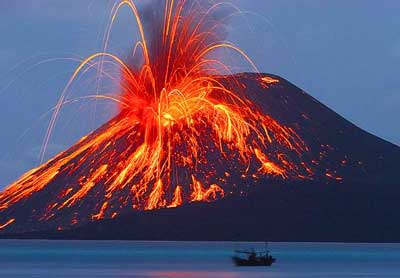 Krakatau volcano photos
: Hundreds of photos from active Krakatau volcano in the Sunda Strait, Indonesia. Most of them taken during our various expeditions to this fascinating volcano.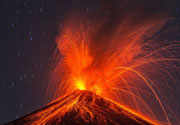 Fuego volcano photos
: One of Central America's most active volcanoes, Fuego in Guatemala is in near-permanent explosive eruption with intermittent phases of increasing activity that generate lava fountains, lava flows and pyroclastic flows.