Baru vulcano
stratovulcano 3474 m / 11,397 ft
Chiriquí Province, Panamá, 8.81°N / -82.54°W
Stato attuale: normal or dormant (1 di 5)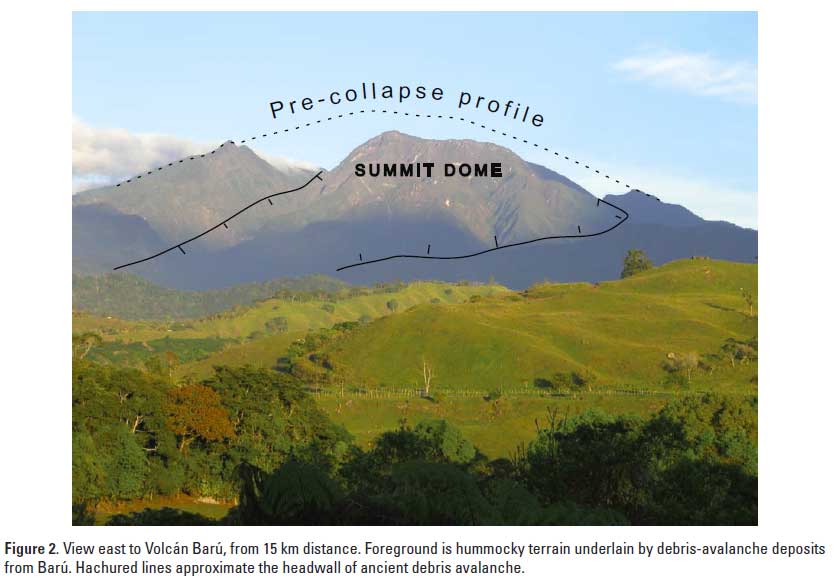 View east to Volcán Barú, from 15 km distance. Foreground is hummocky terrain underlain by debris-avalanche deposits from Barú. Hachured lines approximate the headwall of ancient debris avalanche (from Sherrod et al 2007)
Barú volcano (also called Volcán de Chiriqui) is an active volcano 35 km east of the border to Costa Rica in the Talamanca Range of western in Panama. The complex, mainly andesitic stratovolcano is Panama´s highest peak.
A large explosive eruption occurred at about 700 AD destroyed settlements around the volcano. Excavations at the Cerro Punta archaeological site NW of the volcano have brought back to life their ruins.
The only historical eruption of Barú was an explosive eruption reported from the mid 16th century, but radiocarbon-dated tephra samples suggest that there was some activity less than 500 years ago.
Volcán Barú is the youngest major volcano in Panamá and there are geothermal exploration projects under way.
Mostra la mappa interattiva
Stile eruttivo tipico:
explosive
Eruzioni del vulcano Baru:
1550 ± 10
tephrochronology and radiocarbon-dated: 1340 ± 75, 1130 ± 150, 710 AD ± 30, 260 AD ± 150, 1270 BC ± 100, 7420 BC ± 75, 9280 BC ± 30 years
Lastest nearby earthquakes:
Data / ora
Mag. / Prof.
Distanza/Ubicazione
giovedì, 19 maggio 2022 GMT (2 sismi)
19 mag 2022 06:26 (GMT -6)

(19 mag 2022 12:26 GMT)




4.1


8 km
32 km (20 mi)
Provincia de Puntarenas, Costa Rica, 70 km a nord ovest da David, Panamá
19 mag 2022 06:22 (GMT -6)

(19 mag 2022 12:22 GMT)




4.0


10 km
35 km (22 mi)
28 km a nord est da San Vito, Coto Brus, Provincia de Puntarenas, Costa Rica
venerdì, 13 maggio 2022 GMT (1 sismo)
13 mag 2022 02:46 (GMT -5)

(13 mag 2022 07:46 GMT)




1.7


25 km
9.5 km (5.9 mi)
4.7 km a sud-est da Volcan, Bugaba District, Provincia de Chiriqui, Panamá
Sfondo
Volcán Barú is located south of the continental divide in the Cordillera de Talamanca of western Panamá. Its main edifice is the truncated remnant of a larger stratovolcano, which may have exceeded 4000 m elevation and partially collapsed during a large landslide probably more than 50,000 years ago.
Debris avalanche
The landslide formed a debris avalanche to the west reaching the Pacific coastal plain, and left a 6 km wide horseshoe-shaped summit caldera open to the west.
The avalanche deposit which originated from the amphitheatre truncating the cone is one of the larger and best exposed in Central America. It is reached 30 km length and 20 km width, and removed an estimated volume of 30 cubic km. The deposit of the flow is marked by a large area of hummocky terrain (hummocks are very large, internally intact blocks detached from the original mountain and left standing as small hills in the area of the landslide).

Post caldera lava domes formed inside the caldera and built up a new complex cone which is now higher than the original caldera rim. 10-20 m thick lava flows from Barú have reached 11 km distance of the summit.


Hazards at Baru volcano
(from Sherrod et al, 2007)
Barú with its 3,374 m altitude rises about 2,000 m above populated valleys to the west and about 2,400 m above those to the east. More than 10,000 people live in
areas immediately adjacent to the volcano, where the hazards from future eruptions are greatest. The heavily populated Pacific coastal plain, crossed by the Pan-American Highway, lies 30 km to the south.
Volcán Barú's eruptive episodes typically have included widespread tephra fallout, pyroclastic flows, and lahars. If such eruptions were to occur now, many people and costly infrastructure would be at risk.
Tephra fall
Prehistoric eruptions of Volcán Barú have repeatedly spread tephra blankets more than 100 km downwind and deposited thicknesses of 10 to 20 cm at distances 10 to 15 km downwind. A tephra fall of such magnitude can darken skies, cause panic among some residents, and ultimately cause roofs of some houses to collapse.
Pyroclastic flows
Pyroclastic flows have been common during eruptions of Volcán Barú. The type most common at Barú, block-and ash flows, has originated by the collapse of hot lava from the steep slopes of the summit lava dome. Block-and-ash flows of the past 1,600 years have descended westward from the summit area toward and through the present-day town of Volcán. Indeed, Volcán is built on block-and-ash flow deposits many meters thick. These block-and-ash flows have been limited
to an area within 15 km from their source at the summit dome
Some events, such as lahars and landslides (debris avalanches), can occur even when the volcano is not erupting.
Lahars
At Volcán Barú, many streams are incised in steep-sided canyons, so the damage from lahars trapped within them will be limited to the canyon itself. The largest lahars may reach to midslope altitudes on the plain from La Concepción to the
Río Caldera, where the canyons broaden and lose topographic relief. In this area the largest lahars can spread more widely.
In contrast, the Volcán area, although close to the volcano, lies upon a broad plain. Lahars from the mouth of the amphitheater would spread across this plain and then be funneled in the canyons of the Río Chiriquí Viejo and Río
Macho de Monte. Exceptionally large lahars may reach to the Río Gariché and then be funneled downvalley until they deplete their mass.
Landslides and lahars may cause problems for years after the original eruptions end. Once lahars have filled stream channels with sediment, the streams begin to erode new paths.

Source:
- Sherrod et al (2007) "Volcán Barú: Eruptive History and Volcano-Hazards Assessment", USGS Open-File Report 2007–1401
Baru Photos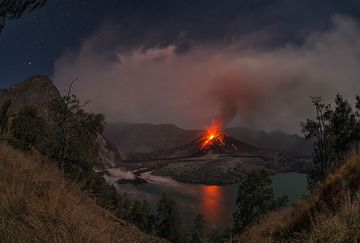 Fish-eye view over Rinjani's caldera with erupting Barujari cone on 21 Nov 2015 evening (Lombok, Indonesia) (Photo: Martin Rietze)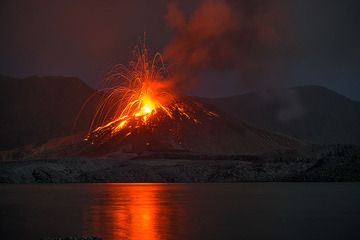 Strombolian explosion from Barujari cone and reflection on Segara Anak crater lake (Rinjani volcano eruption, Nov 2015, Lombok, Indonesia) (Photo: Martin Rietze)

See also: Sentinel hub | Landsat 8 | NASA FIRMS