Chimborazo vulcano
stratovulcano 6310 m / 20,702 ft
Ecuador, -1.46°S / -78.82°W
Stato attuale: normal or dormant (1 di 5)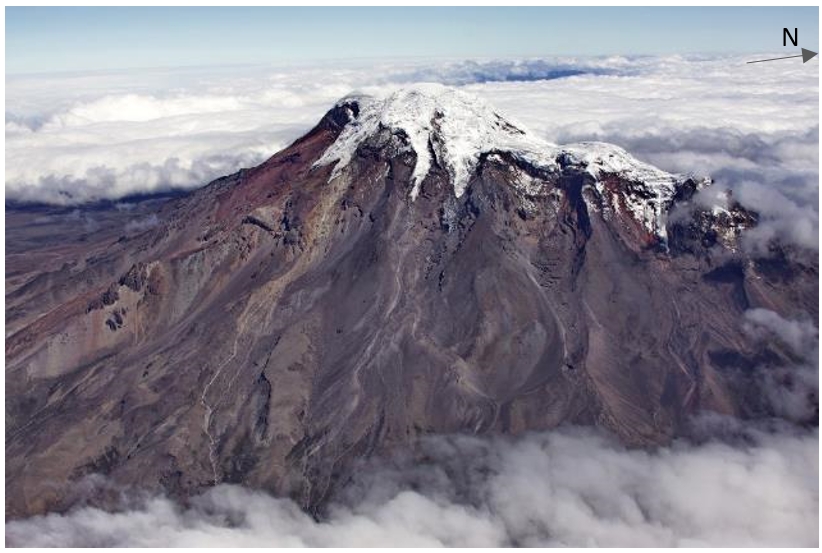 Chimborazo volcano is Ecuador's highest active volcano and the highest in the Northern Andean Volcanic Zone. The massive, ice-capped stratovolcano lies at the southwest end of the main Ecuadorian volcanic arc, the so-called "Avenida de los Volcanes" ("Avenue of Volcanoes") and is located ca. 150 km SSW of Quito and 28 km NW of the town of Riobamba.

Chimborazo had been thought to be extinct, but new studies have shown that it still is an active volcano. Although there are no historical eruptions,
Chimborazo erupted at least 7 times during the past 10,000 years. These eruptions produced pyroclastic surges that reached down to 3800 m elevation. The average time interval between single eruptions is about 1000 years and the last eruption occurred about 1400 years ago, which means that statistically, it is due for another one.

Due to its great height and its geologic history of explosive eruptions, and closeness to populated areas in Ambato and Riobamba basins, it should be considered a dangerous volcano.
Stile eruttivo tipico
: explosive
Eruzioni del vulcano Chimborazo
: 640 AD ± 500, 200 AD ± 40, 3360 BC ± 40 (radiocarbon dated)
Latest nearby earthquakes
Data / ora
Mag. / Profondità
Distanza
Ubicazione
Tue, 4 May 2021 (GMT) (1 terremoto)
2021-05-03 21:08:23

(4 May 2021 02:08:23 GMT)




1.4


9 km - Di più
km
Ecuador - Tungurahua, A 1.35km De Banos
Mon, 3 May 2021 (GMT) (1 terremoto)
2021-05-03 12:47:33

(3 May 2021 17:47:33 GMT)




2.9


7 km - Di più
km
Canton Patate, 21 km a sud-est da Ambato, Provincia del Tungurahua, Ecuador
Sun, 2 May 2021 (GMT) (1 terremoto)
2021-05-02 03:26:44

(2 May 2021 08:26:44 GMT)




4.0


2 km - Di più
km
Canton Colta, 32 km a sud ovest da Riobamba, Provincia del Chimborazo, Ecuador
Sat, 1 May 2021 (GMT) (1 terremoto)
2021-05-01 05:25:52

(1 May 2021 10:25:52 GMT)




3.1


10 km - Di più
km
Canton Pelileo, 17 km a sud-est da Ambato, Provincia del Tungurahua, Ecuador
Sfondo
The dominantly andesitic-to-dacitic Chimborazo volcano is mostly of Pliocene-to-Pleistocene age. The volcano collapsed about 35,000 years ago, producing a major debris avalanche, whose deposits underlie Riobamba and temporarily dammed the Río Chambo, producing an ephemeral lake.
Subsequent eruptions have been dominantly andesitic and constructed three edifices along an east-west line, the youngest and westernmost of which forms the current summit of Chimborazo.
Chimborazo sector collapse and debris avalanche
The debris avalanche deposit has not been directly dated, but a pyroclastic flow directly overlying the deposit has been dated at over 35,000 years, meaning that the collapse occured not too long before the eruption that produced the pyroclastic flow. The debris avalanche deposit has an average thickness of 40 m, covers an area of 280 sq km, and has a volume of > 11 cubic km.
---
Sources:
-
Smithsonian / GVP volcano information
)
- Alcaraz et al (2005) "The debris avalanche of Chimborazo, Ecuador", 6th International Symposium on Andean Geodynamics (ISAG 2005, Barcelona), Extended Abstracts: 29-32
Climbing Chimborazo
Chimborazo is a popular and challenging climb. The normal route up the mountain takes 10 hours to the summit and 4 hours to return.
Interesting fact: Chimborazo's distance from the earths center
Chimborazo's summit is the farthest point of the earth's surface from the center of the earth. Due to the centrifugal forces of its rotation, the earth's shape deviates from a perfect shpere and has a larger diameter at the equator than the length of its N-S axis. The distance of Chimborazo's summit from the center is 6,384.4 km, 2229 m more than the distance of Mt Everest's top to the center. (Source: Wikipedia)
See also:
Sentinel hub
|
Landsat 8