Clear Lake vulcano
Campo vulcanico 1439 m / 4,721 ft
California, USA, 38.97°N / -122.77°W
Stato attuale: normal or dormant (1 di 5)
Clear Lake volcanic field lies in the northern Coast Ranges, California, ca. 135 km north of San Francisco. The volcanic field consists of lava dome complexes, cinder cones, and maars of basaltic-to-rhyolitic composition. Mount Konocti, a dacitic lava dome on the south shore of Clear Lake, is the largest volcanic feature.
The area has intense gethermal activity, caused by a large, still hot silicic magma chamber about 14 km wide and 7 km beneath the surface. It provides the heat source for the Geysers, the world's largest producing geothermal field on the SW side of the volcanic field. Its geothermal power plants can generate approximately 2000 megawatts, enough to power two cities the size of San Francisco.
The latest volcanic activity happened about 10,000 years ago and formed maars and cinder cones along the shores of Clear Lake, the larges natural freshwater lake in California. Volcanism around Clear Lake is related to the complex San Andreas transform fault system.
Mostra la mappa interattiva
Stile eruttivo tipico
: effusiva (Duomi lavici)
Eruzioni del vulcano Clear Lake
: ca. 10,000 years ago
Data / ora
Mag. / Prof.
Distanza/Ubicazione
venerdì, 15 ottobre 2021 19:54 GMT (1 terremoto)
15 ott 2021 12:54 (GMT -7)

(15 ott 2021 19:54 GMT)




3.0


4.4 km
23 km (14 mi)
29 km a sud-est da Ukiah, Contea di Mendocino County, Contea di Kern, Stati Uniti
mercoledì, 13 ottobre 2021 21:41 GMT (1 terremoto)
13 ott 2021 14:41 (GMT -7)

(13 ott 2021 21:41 GMT)




2.6


1.8 km
18 km (11 mi)
6km NW of The Geysers, CA
domenica, 10 ottobre 2021 04:38 GMT (1 terremoto)
9 ott 2021 21:38 (GMT -7)

(10 ott 2021 04:38 GMT)




2.7


1.4 km
20 km (12 mi)
Contea di Sonoma County, 23 km a sud ovest da Clearlake, Contea di Lake County, Contea di Kern, Stati Uniti
sabato, 9 ottobre 2021 22:51 GMT (1 terremoto)
9 ott 2021 15:51 (GMT -7)

(9 ott 2021 22:51 GMT)




2.6


1.6 km
20 km (12 mi)
1km NW of The Geysers, CA
Sfondo
Volcanic activity has been largely non-explosive, with the exception of one major explosive eruption that must have occurred and deposited a airfall tuff. Most lavas found here range from basalt through rhyolite in composition, dacite being the most dominant type.

Eruptions at Clear Lake volcanic field:
4 eruptive episodes separated by time gaps of ca. 150-200,000 years have been recognized: 2.1-1.3 million years ago (m.y.), 1.1-0.8 m.y., 0.65-0.30 m.y., and 100,000-10,000 years ago. The total volume of about 100 individual eruptions exceeds 70 cubic kilometers.
Eruptive products from the first activity episode are found in the east of the field. The second activity episode constructed Cobb Mountain (1 million years, Ma) and Mount Hannah (0.9 Ma). The third episode of activity was at the Mount Konocti–Thurston Lake area, the most voluminous dacite and rhyolite feature of the Clear Lake volcanics.
The most recent activity, up to about 10,000 years ago were small mostly basaltic and andesitic eruptions in the north of the field.

Sources: GVP, NCGS (Northern California Geological Society)
Clear Lake Photos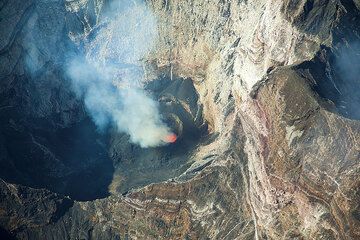 Clear view onto the lava lake inside Marum's west crater. (Photo: Tom Pfeiffer)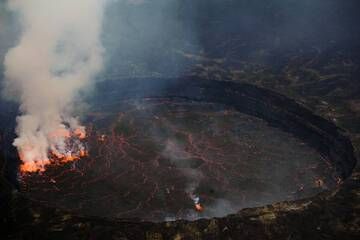 Again the Nyiragongo lava lake. The red glow of the lava was clearly visible through the day. (Photo: shinkov)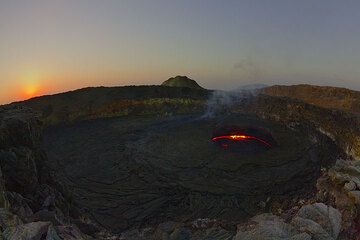 Il sole sta per sorgere sopra l'orizzonte. Il lago di lava è per lo più crosta di sopra e il clima secco rende una visione molto chiara sul lago. (Photo: Tom Pfeiffer)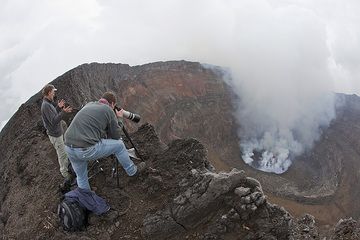 Thanks to the risen level of the lake, the rim near the campsite now offers unobstructed, perfect views of the whole lake. And thanks to the prevailing easterly winds, it...

See also: Sentinel hub | Landsat 8