Copiapo vulcano
stratovulcano 6052 m / 19,855 ft
Nord del Cile, Bolivia e Argentina, Sudamerica, -27.3°S / -69.13°W
Stato attuale: estinto (probabilmente) (0 di 5)
Copiapo volcano is an andesitic to dacitic stratovolcano in the Atacama province of northern Chile, close to Nevado Tres Cruces National Park and Laguna del Negro Francisco.
Most of the volcano's edifice is several hundreds of thousands to millions years old, and Copiapo might be extinct although there is still solfataric activity.
The volcano contains 8 andesitic cinder cones located primarily on the SE flank. The most recent cone is Volcán San Román 7 km north of Copiapó.
Stile eruttivo tipico
: explosive
Eruzioni del vulcano Copiapo
: none in recent times
Latest nearby earthquakes
Data / ora
Mag. / Profondità
Distanza
Ubicazione
Tue, 12 Jan 2021 (GMT)
12 Jan 2021 08:24:24 GMT


3.3


114 km - Più
29 km
Copiapó Province, 98 km a est da Copiapo, Atacama, Cile
See also:
Sentinel hub
|
Landsat 8
Piu su VolcanoDiscovery
If you find the website useful and would like to support us and help keep it alive and improve it, please consider
making a small donation
.
Thank you!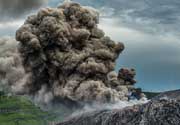 Ibu volcano photos
: Ibu in Halmahera is one of the most active, but rarely visited volcanoes in Indonesia. A spectacular lava dome is growing inside the volcano's breached crater, with frequent explosions.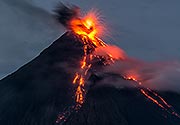 Mayon volcano photos
: Mayon on Luzon Island, towering above Legazpi city is famous for being one of the most perfectly symmetrical stratovolcanoes in the world. It is also one of the most active and most dangerous volcanoes (not only) in the Philippines.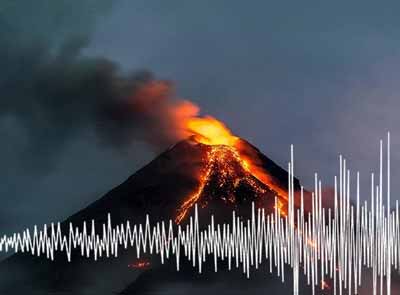 Earthquakes near volcanoes
: Earthquakes often precede volcanic eruptions. Find out where the latest earthquakes in the vicinity of volcanoes have occurred.