Strong mag. 6.4 earthquake - Mindanao, Philippines on Sunday, 6 September 2020 - information
-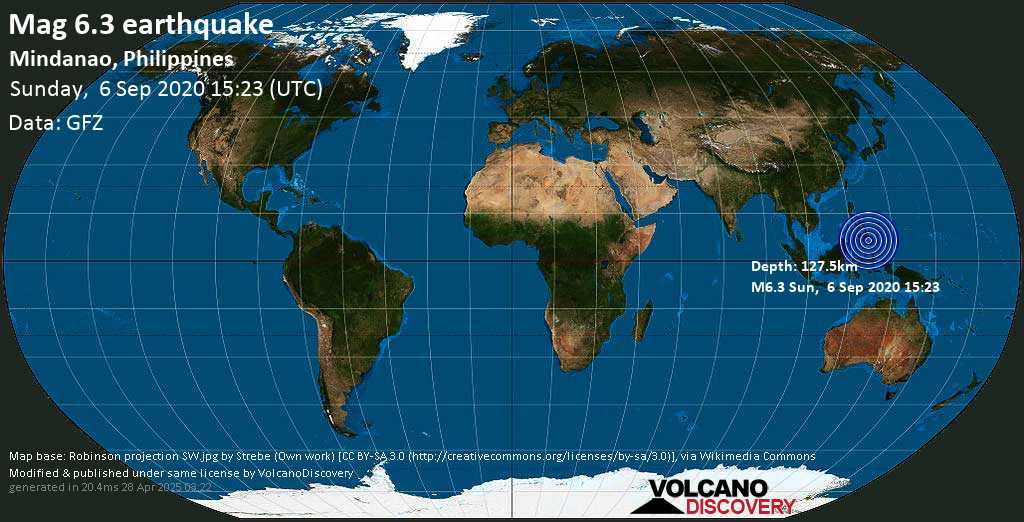 Strong magnitude 6.4 earthquake at 127 km depth
6 Sep 15:30 UTC: Primo a segnalare: GFZ dopo 7 minuti.
Sep 6 15:31: Magnitudine ricalcolata da 6.5 a 6.4.
Profondità ricalcolata da 117.0 a 120.0 km.
Sep 6 15:52: Magnitudine ricalcolata da 6.4 a 6.3.
Sep 6 16:22: Magnitudine ricalcolata da 6.3 a 6.4.
Profondità ricalcolata da 120.0 a 127.0 km.
Update Sun, 6 Sep 2020, 16:02
Large magnitude 6.3 quake hits the Philippines
This evening's quake in the Philippines
A strong earthquake of magnitude 6.3 hit the Philippine's Mindanao island this evening, approx. 90 km SSE of Davao city.
This is the second larger quake in the area following the
magnitude 5.1 quake on 30 Aug
.
There is no tsunami expected from the quake. Thanks to the relative large depth of the quake at around 120 km, only moderate but widely felt will have occurred in most of Mindanao Island, and no major damage should be expected.
Earthquake data:
Data & ora: 6 Sep 2020 03:23:45 UTC -
Magnitudine: 6.4
Profondità: 127.0 km
Epicentro latitudine / longitudine: 6,3°N / 125,68°E
(
Filippine
)
Vulcano più vicino:
Matutum
(92 km / 57 mi)
Nearby towns and cities:
15 km SSE da Malita (Davao Occidental)
(pop: 41,100)
36 km SE da Santa Maria (Davao del Sur)
(pop: 16,800)
44 km E da Maluñgun (Province of Sarangani)
(pop: 52,200)
48 km ENE da Alabel (Province of Sarangani)
(pop: 43,300)
60 km ENE da General Santos
(pop: 679,600)
61 km SE da Digos (Province of Davao del Sur)
(pop: 116,100)
86 km S da Davao City
(pop: 1,212,500)
170 km SE da Budta
(pop: 1,273,700)
Fonte dati primaria:
GFZ
Stima dell'energia sismica liberata: 2,5 x 10
14
joules (69,8 gigawatt hours, equivalent to 60036 tons of TNT or 3,8 atomic bombs!) [
saperne di più
]
Data for the same earthquake reported by different agencies
Info: The more agencies report about the same quake and post similar data, the more confidence you can have in the data. It takes normally up to a few hours until earthquake parameters are calculated with near-optimum precision.
| | | | |
| --- | --- | --- | --- |
| Magnitudine | Profondità | Ubicazione | Fonte |
| M 6.4 | 127 km | 86 km S of Davao, Philippines | GFZ |
| M 6.3 | 120 km | 17 km E of Talagutong, Philippines | USGS |
| M 6.4 | 121 km | Mindanao, Philippines | BMKG |
| M 6.4 | 143 km | 039 km N 45° E of Jose Abad Santos (Davao Occidental) (Philippines) | PHIVOLCS |
| M 6.2 | 118 km | Philippines [Sea] | INGV |
| M 6.4 | 119 km | Mindanao, Philippines | GeoAu |
| M 6.4 | 110 km | 棉兰老岛附近海域 (Philippines) | CEIC |
| M 6.3 | 120 km | 17 Km E of Talagutong, Philippines | USGS |
User reports for this quake (373)
Aftershocks of the 6.4 quake 60 km east of General Santos, Soccsksargen, Philippines, 6 September 15:23 UTC
More info
Recorded aftershocks, latest first (311 quakes):
Earlier earthquakes in the same area since 1900
Strong mag. 6.4 earthquake - 60 km east of General Santos, Soccsksargen, Philippines, on Sunday, 6 September 2020 at 15:23 (GMT)
Hint: Click on Date/Time to show latest first

Date / time UTC

|

Mag

|

Profondità

|

Age

|

Distanza

| Details

15 Aug 1918 12:18

|

8.3

|

20km / 12.4mi

|

102 anni fa

|

149km / 92mi

| Mindanao, Philippines

24 Jan 1965 00:11

|

8.2

|

20km / 12.4mi

|

56 anni fa

|

991km / 616mi

| Kepulauan Sula, Indonesia

21 Dec 1939 21:00

|

8.1

|

35km / 22mi

|

81 anni fa

|

791km / 492mi

| Sulawesi, Indonesia

02 Dec 1972 00:19

|

8.0

|

60km / 37mi

|

48 anni fa

|

107km / 66mi

| Mindanao, Philippines

14 Apr 1924 16:20

|

8.0

|

15km / 9.3mi

|

97 anni fa

|

61km / 38mi

| Mindanao, Philippines

01 Jan 1996 08:05

|

7.9

|

24km / 15mi

|

25 anni fa

|

889km / 553mi

| Minahasa, Sulawesi, Indonesia

16 Aug 1976 16:11

|

7.9

|

33km / 21mi

|

44 anni fa

|

183km / 114mi

| Mindanao, Philippines

18 Apr 1990 13:39

|

7.8

|

26km / 16mi

|

31 anni fa

|

649km / 403mi

| Minahasa, Sulawesi, Indonesia

24 Jan 1948 17:46

|

7.8

|

15km / 9.3mi

|

73 anni fa

|

624km / 388mi

| Panay, Philippines

25 May 1943 23:07

|

7.8

|

15km / 9.3mi

|

78 anni fa

|

206km / 128mi

| Philippine Islands Region (Philippines)

Show all
Map of earlier quakes
Piu su VolcanoDiscovery