Leggero terremoto magnitudine 4.9 - 59 km ENE of Kathmandu, Nepal martedí, 15 settembre 2020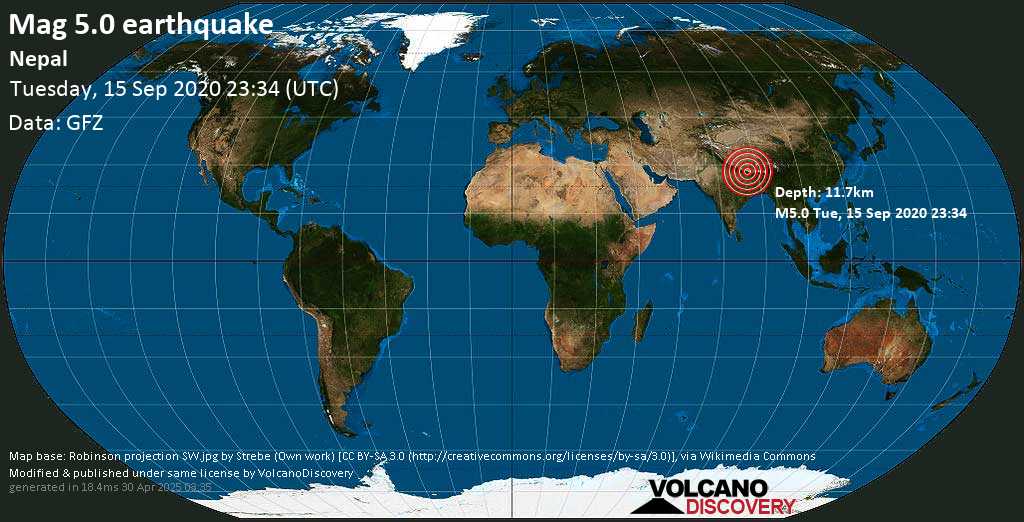 15 Sep 23:42 UTC: Primo a segnalare: GFZ dopo 8 minuti.
16 Sep 05:54: Profondità ricalcolata da 10.0 a 12.0 km (da 6.2 a 7.5 mi). Posizione dell'epicentro corretta di 7.8 km (4.8 mi) al S.
Update Wed, 16 Sep 2020, 06:37
Damaging earthquake hits Nepal this morning
This morning's quake in Nepal and location of user reports of it
A moderately strong earthquake hit Nepal this morning at 5:19 am local time (which is 5 hours 45 minutes ahead of GMT). According to various agencies, the quake had a magnitude between 4.9 and 6.0 and struck approx. 60 km NE of the capital Kathmandu in the Sindhupalchok district.
The quake was widely felt within nearby areas and the capital where thousands felt a short shake, although many people left their houses in fear of stronger quakes, remembering the deadly magnitude 7.8 earthquake 5 years ago on 25 April 2015, which had hit 100 km to the west of today's tremor, killing nearly 9,000 people and injuring nearly 22,000. Local newspaper reported that one house in the epicenter area collapsed and one person was injured.
The area of the earthquake's epicenter had recently suffered from a series of devastating landslides which were caused by heavy monsoon rains and killed several people. The new quake and aftershocks of it could further destabilize slopes, which could in turn lead to more landslides in the near future, authorities warn.
Earthquake data:
Data & ora: 2020-09-15 11:34:04 UTC
Ora locale a epicentro:
16 Sep 5:19 am
Magnitudine: 4.9
Profondità: 12.0 km
Epicentro latitudine / longitudine: 27.9°N / 85.88°E
(
Nepal
)
Nearby towns and cities:
10 km SW da Kodāri̇̄
(pop: 1,600)
45 km NE da Dhulikhel
(pop: 16,300)
46 km NE da Banepā
(pop: 17,200)
59 km NE da Kathmandu
(pop: 1,442,300)
192 km E da Pokhara
(pop: 200,000)
194 km N da Darbhanga
(pop: 287,200)
Fonte dati primaria:
GFZ
Stima dell'energia sismica liberata: 1.4 x 10
12
joules (392 megawatt hours, equivalent to 338 tons of TNT) [
saperne di più
]
Data for the same earthquake reported by different agencies
Info: The more agencies report about the same quake and post similar data, the more confidence you can have in the data. It takes normally up to a few hours until earthquake parameters are calculated with near-optimum precision.
Data / ora
Mag. / Profondità
Ubicazione
Fonte
2020-09-15 23:34:04 UTC


16 Sep 5:19 am

M 4.9 / 12 km
59 km ENE of Kathmandu, Nepal
GFZ
2020-09-15 23:34:03 UTC
M 5.3 / 10 km
Nepal
EMSC
2020-09-15 23:34:04 UTC


2020-09-16 07:34:04

M 4.9 / 10 km
尼泊尔, Nepal
CEIC
2020-09-15 23:34:07 UTC
M 5.1 / 38 km
Nepal
BMKG
2020-09-15 23:34:06 UTC
M 5.1 / 24.3 km
Nepal
GeoAu
2020-09-15 23:34:03 UTC
M 5.3 / 10 km
11 Km SW of Kodāri̇̄, Nepal
USGS
User reports for this quake (317)
Earlier earthquakes in the same area since 1900
Light mag. 4.9 earthquake - 59 km ENE of Kathmandu, Nepal, on 16 Sep 5:19 am
Map of earlier quakes
Piu su VolcanoDiscovery