Vulcano Etna: 21 ° parossismo della SE nuovo cratere 29-30 dicembre 2013
Piu su VolcanoDiscovery
If you find the website useful and would like to support us and help keep it alive and improve it, please consider
making a small donation
.
Thank you!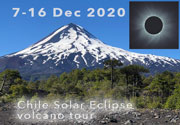 Solar Eclipse & volcano tour
: A total solar eclipse will occur on 14 Dec 2020 and pass over southern Chile and Argentina. Chile's most active volcano Villarrica is located exactly on the center line where the eclipse will be best to observe.
We offer you the unique chance to combine the eclipse with a tour to one the world's most beautiful volcanic areas - the Lake District in Chile.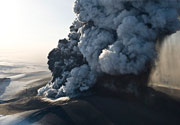 Eyjafjallajökull volcano photos
: The volcano in Iceland with the unpronounceable name... but famous in 2010 when its ash clouds drifted over Europe and forced a unprecedented large-scale airspace closure for several days, stranding millions of passengers.