Geology glossary
Volcanology

Un banco di lava è una piattaforma formata da nuovi flussi di lava che si estende il litorale vecchio; in particolare, questo può essere osservato nelle Hawaii al vulcano Kilauea durante i tempi quando la lava sta entrando nell'oceano, formando la nuova terra.

Nel loro stadio di giovane, panchine sono altamente instabile. Spesso sono se solo da materiale sciolto come sabbia e onda eroso rock. Panche giovane possono crollare in qualsiasi momento, e è pericolo di vita per stare in uno. Solo dopo molto tempo, quando la pila di materiale sotto il banco e di fronte è sufficientemente stabilizzata, il banco può essere considerato nuova terra stabile.

Read all

Volcanology

Lucernari sono aperture nel tetto sopra un tubo di lava, da dove si può ammirare il flusso di lava che scorre. Di solito, questi buchi sono causati dal semplice crollo del tetto del tubo.
Piu su VolcanoDiscovery
If you find the website useful and would like to support us and help keep it alive and improve it, please consider
making a small donation
.
Thank you!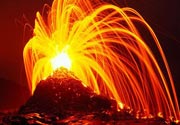 Volcano Tours on Hawai'i
: The Hawaiian Islands are not only home to the most active volcanoes in the world, Kilauea and Mauna Loa on the Big Island, but also boast a unique natural environment. Born by volcanic activity of a very active hot spot in the middle of the Pacific Plate, they are a showcase of natural history.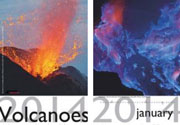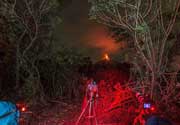 Exploring the unknown
: We sometimes invite you to "test" new itineraries or destinations with us. Such trips are a reduced cost and require a higher degree of flexibility, but often offer a great deal of adventure.