Geology glossary
Volcanology: pumice stone

Pomice è una roccia vulcanica molto leggera, porosa che si forma durante le eruzioni esplosive. Durante l'eruzione vulcaniche disciolti nella parte liquida del magma vischioso verz espandono molto rapidamente per creare una schiuma o schiuma; parte liquida la schiuma poi solidifica rapidamente al vetro intorno le bolle di gas. Il volume di bolle di gas è di solito così grande che pomice è più leggero dell'acqua e galleggianti. Pomice è un importante minerale industriale utilizzato per la produzione di cemento di alta qualità e leggero, isolando i materiali da costruzione.

Pumice is a textural term for a volcanic rock that is a solidified frothy lava composed of highly microvesicular glass pyroclastic with very thin, translucent bubble walls of extrusive igneous rock. It is commonly, but not exclusively of silicic or felsic to intermediate in composition (e.g. rhyolitic, dacitic, andesite, pantellerite, phonolite, trachyte), but occurrences of basaltic and other com...

Read all
Piu su VolcanoDiscovery
If you find the website useful and would like to support us and help keep it alive and improve it, please consider
making a small donation
.
Thank you!
Photos from Vanuatu
: A fascinating archipelago with very active volcanoes, tropical islands and very friendly and hospital people who still live their original Melanesian culture. Browse through our vast collection of photos.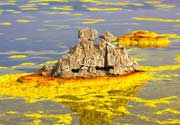 Dallol hot springs
: One of the most bizarre landscapes on earth: Dallol is a vast and very active hydrothermal field creating a colorful array of hot springs, small geysers, salt towers, colorful lakes and ponds in the middle of the deepest part of the Danakil desert and the Karum salt lake.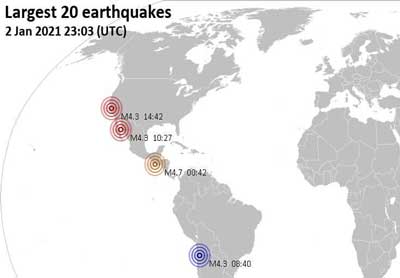 Largest 20 earthquakes past 24 hrs
: Our continuously updated worldwide map and list of the most recent largest earthquakes in the world during the past 24 hours.
You can also find top 20 lists for given past days / months / years from the archive.