Curtis Island

(Submarine volcano)

[più]
Gamble

(Submarine)

[più]
Giggenbach

(Submarine volcano)

[più]
Havre Seamount

(vulcano sottomarino)

Havre Seamount is an active submarine volcano in the Kermandec Island arc about 75 SW of Curtis island. Little is known about the volcano. Its first document eruption probably started around 18 July 2012 and was discovered in August 2012 after a large pumice raft was discovered i... [più]
Hinepuia

(Submarine)

[più]
Hinetapeka

(Submarine)

[più]
Macauley Island

(Caldera)

[più]
Monowai

(vulcano sottomarino)

Monowai seamount (also known as Orion seamount) is one of the most active volcanoes of the Kermancec Arc. It has a large submarine caldera and is located halfway between Tonga and the Kermadec Islands. Eruptions at Monowai occur every few years. [più]
Putoto

(Submarine)

[più]
Rakahore

(Submarine)

[più]
Raoul Island

(stratovulcano)

Raoul Island volcano is the northernmost, largest and best known of the Kermandec islands NE of New Zealand.
The anvil shaped 10 x 6 km wide island is the top of a large stratovolcano breaching the sea surface. At its submarine base, the volcano measures 35 x 20 km. The vo... [più]
Volcano OP

(Submarine)

[più]
Volcano Q

(Submarine)

[più]
Volcano W

(Submarine volcanoes)

[più]
Piu su VolcanoDiscovery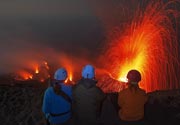 VolcanoDiscovery tours
: A selection of our most popular trips, which we have been offering and improving over many years now: Stromboli & Etna, Santorini, Java, Ethiopia, Nyiragongo and more. Have a look!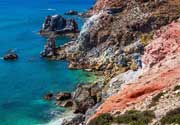 Island of Venus
: Milos Island in Greece is one of the most beautiful and photogenic islands of the Mediterranean. Its boasts breathtaking scenery of colorful volcanic rocks, some of the finest beaches of the country, a rich archeological heritage, great hospitality and delicious local cuisine. Come join us to explore this magical island on a 6-days geological tour!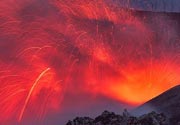 17 days volcano trekking
: This is one of our most exciting volcano tours! Halmahera, North Sulawesi and the Sangihe Islands are not only very scenic and interesting as well as nearly unspoiled by tourism, but also home to some of the country's most active (and often erupting) volcanoes, inclduing Dukono, Ibu, Lokon, Soputan and Karangetang.