Kilauea vulcano
Shield volcano 1277 m (4,190 ft)
Hawai'i, 19.41°N / -155.29°W
Stato attuale: attività minore o allarme eruzione (3 di 5)
Last update: 16 Jun 2021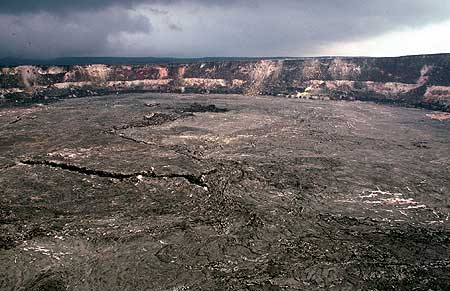 Haleamaumau crater in the center of the Kilauea caldera - the heart of Kilauea volcano
Kilauea is the youngest and most active Hawaiian shield volcano, located on the southern part of the Island of Hawai'i, known as Big Island. Hawai'i is the southernmost and largest of the island chain, which owes its existence to the very active Hawaiian hot spot.
Kilauea volcano is near-constantly erupting from vents either on its summit (caldera) or on the rift zones. At present, Kilauea volcano is still having one of the most long-lived eruptions known on earth, which started in 1983 on the eastern rift zone and has mainly been concentrated at the Pu'u 'O'o vent.
Stile eruttivo tipico
: Prevalentemente effusiva dal 1790, ma esplosiva negli ultimi anni ~ 2500 ~ 60%.
Eruzioni del vulcano Kilauea
: Near-continuous eruptions. Since 1960: 1961 (4x), 1962, 1963 (2x), 1965 (2x), 1967-68, 1968 (2x), 1969, 1969-74, 1971 (2x), 1973 (2x), 1974 (3x), 1975, 1977, 1979, 1980, 1982 (2x), 1983-2018 (incl. 1986, 1992, 1997, 2007, 2011 (3x)), 2018 (lower east rift zone in Leilani subdivision), 2020 (Dec) - ongoing
Latest nearby earthquakes
Data / ora
Mag. / Profondità
Distanza/Ubicazione
Thu, 17 Jun 2021 (GMT) (5 Terremoti)
17 Jun 2021 12:05:59 GMT


2.2


31 km
25 km (16 mi)
Island of Hawaii, Hawaii
17 Jun 2021 11:45:04 GMT


2.4


33 km
26 km (16 mi)
5 Km ENE of Pāhala, Hawaii
17 Jun 2021 09:04:34 GMT


2.0


31 km
23 km (14 mi)
8 Km ENE of Pāhala, Hawaii
17 Jun 2021 08:26:35 GMT


2.1


33 km
23 km (14 mi)
11 Km E of Pāhala, Hawaii
17 Jun 2021 07:31:07 GMT


1.8


33 km
26 km (16 mi)
4 Km ENE of Pāhala, Hawaii
Sfondo
Kilauea volcano, a youthful shield volcano, sitting on the south east flank of the massive Mauna Loa shield volcano, is the youngest volcano (on land) of the Hawaiian hot spot and not only the most active volcano of Hawaii but at the same time also the world's active volcano. It has been in near-constant activity since there is oral or written history and it is having an uninterrupted eruption since 1983 (at present at the Pu'u 'O'o vent on the East rift zone).

Its eruptions are prominent in Hawaiian Polynesian legends and written documentation about its activity go back to only 1820s when it started to attract interested visitor from all over the world and bacame one of volcanology's hot spots.

Kilauea has a large summit caldera with a central crater, Halemaumau, which is according to Hawaiian legends the home of the fire goddess Pele. Until 1924, it contained a lava lake. Kilauea has frequent summit and flank lava flow eruptions that are occurring along two elongated rift zones to the south-west and to the east, which extend to the sea on both sides of the volcano. The 3 x 5 km caldera was formed in several stages about 1500 years ago. About 90% of the surface of the basaltic shield volcano is formed of lava flows less than about 1100 years old; 70% of the volcano's surface is younger than 600 years. The long-term eruption from the East rift zone that began in 1983 has produced lava flows covering more than 100 sq km, destroying nearly 200 houses and adding new coastline to the island.
Kilauea Photos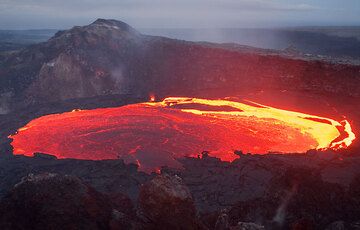 Lago di lava all'interno del cratere di vulcano Kilauea West Gap. La crosta intera che copre il lago ha appena stato capovolto, esponendo all'interno di caldo rosso incan...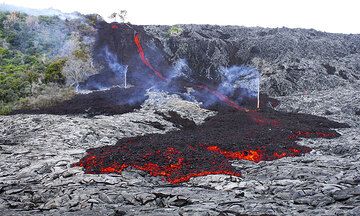 The first lava flows from Kilauea volcano (Hawai'?) to arrive in the coastal plain since March 2011 (5 Dec 2011) (Photo: Philip Ong)

See also: Sentinel hub | Landsat 8