Lipari vulcano
stratovulcano 602 m
Isole Eolie (Italia), 38.51°N / 14.95°E
Stato attuale: normal or dormant (1 di 5)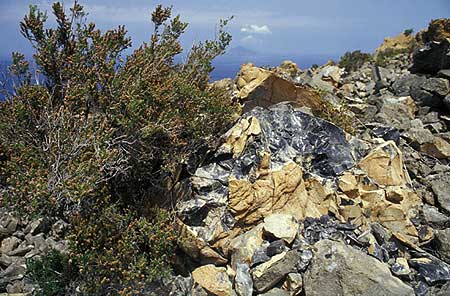 Obsidian block from the Rocce Rosse lava flow on Lipari Island
Lipari, the ancient Meligunis, is the largest island of the Eolian Archipelago and its economic and cultural center.
Mostra la mappa interattiva
Stile eruttivo tipico:
dominantly explosive; eruptions of pumice, followed by construction of lava domes and effusion thick obsidian lava flows.
Eruzioni del vulcano Lipari:
729 AD (?, alternative date: 580 AD) at Monte Pilato, formation of "Rocce Rosse" obsidian flow
Lastest nearby earthquakes:
Data / ora
Mag. / Prof.
Distanza/Ubicazione
venerdì, 13 maggio 2022 GMT (1 sismo)
14 mag 2022 00:40 (GMT +2)

(13 mag 2022 22:40 GMT)




0.8


9.4 km
38 km (24 mi)
Sicily, Italy
martedì, 10 maggio 2022 GMT (1 sismo)
10 mag 2022 12:41 (GMT +2)

(10 mag 2022 10:41 GMT)




1.3


4.2 km
10 km (6.2 mi)
Italy: 6 Km S Lipari (ME)
martedì, 3 maggio 2022 GMT (1 sismo)
3 mag 2022 05:11 (GMT +2)

(3 mag 2022 03:11 GMT)




2.1


124 km
24 km (15 mi)
Mare Tirreno, 21 km a nord da Capo d'Orlando, Italia
Sfondo
It is located immediately north of Vulcano Island. The island contains numerous small stratovolcanoes, craters, and lava domes on a basement of submarine volcanic deposits.
The latest eruption in historic times, probably in 729 AD, at Monte Pilatus at the NE tip of the island, formed a spectacular obsidian lava flow. Since Ancient times, the island has been known for its rich deposit of pumice (the largest deposit in the world!) and obsidian, - a highly valued raw material to manufacture tools such as knives and arrowheads in the Stone and Bronze Age. Obsidian from Lipari has been found throughout the Mediterranean, proving that a vast trade network existed already during the 2nd millennium BC.
Lipari Photos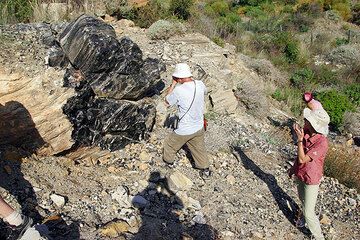 A big block of obsidian on Lipari Island (Eolian Islands) (Photo: Tom Pfeiffer)
Obsidian on Lipari (Photo: Tom Pfeiffer)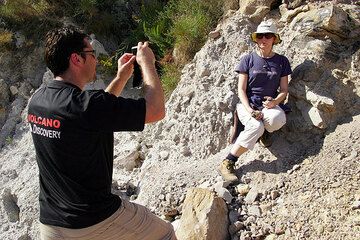 Posing in front of obsidian on Lipari (Photo: Tom Pfeiffer)

See also: Sentinel hub | Landsat 8 | NASA FIRMS