Momotombo vulcano
Aggiornato: 19 ago. 2022 20:11 GMT -
Refresh
stratovulcano 1297 m / 4,255 ft
Nicaragua, 12.42°N / -86.54°W
Stato attuale: normal or dormant (1 di 5)
Last update: 20 dic 2021 (Volcanic Ash Advisory)

Momotombo volcano is a symmetrical stratovolcano rising as a peninsula above the NW part of Lake Managua, Nicaragua. It is one of the most known volcanoes of the country.
Momotombo is located at the SE end of the Marrabios Range. It consists of the remnant of an older volcano which now forms a somma ridge on the southern part and a young symmetrical cone that is less than 4500 years old and contains a 150 x 250 m wide summit crater. Young lava flows from Momotombo have flown down the NW flank into the 4-km-wide Monte Galán caldera.
There have been frequent small ash eruptions that were reported by explorers in the past century, but the volcano has been dormant for more than 100 years now. At the moment, the activity consists of active high-temperature fumaroles and gas and steam emission.
A major geothermal field is located on the southern flank of the volcano.
Mostra la mappa interattiva
Stile eruttivo tipico:
explosive, strombolian activity
Eruzioni del vulcano Momotombo:
2015-ongoing (2016), 1918 (?), 1905, 1902, 1886-87, 1885 (?), 1882, 1878, 1870, 1858-66, 1854, 1852, 1849, 1764, 1736, 1609 (?), 1605-06, 1578, 1524
Radiocarbon-dated: 1100 ± 50 years, 800 BC ± 50 years, 2550 BC ± 300 years
Lastest nearby earthquakes:
Data / ora
Mag. / Prof.
Distanza/Ubicazione
domenica, 14 agosto 2022 GMT (1 sismo)
14 ago 2022 12:13 (GMT -6)

(14 ago 2022 18:13 GMT)




1.6


40 km
13 km (8.1 mi)
25 km a est da Leon, Nicaragua
sabato, 13 agosto 2022 GMT (1 sismo)
13 ago 2022 00:44 (GMT -6)

(13 ago 2022 06:44 GMT)




2.8


113 km
86 km (53 mi)
25 km a sud ovest da Boaco, Nicaragua
giovedì, 11 agosto 2022 GMT (2 sismi)
11 ago 2022 05:55 (GMT -6)

(11 ago 2022 11:55 GMT)




2.4


35 km
55 km (34 mi)
17 km a est da Managua, Nicaragua
10 ago 2022 20:14 (GMT -6)

(11 ago 2022 02:14 GMT)




1.9


5 km
24 km (15 mi)
4.7 km a sud da Larreynaga, Departamento de Leon, Nicaragua
lunedì, 8 agosto 2022 GMT (1 sismo)
8 ago 2022 01:09 (GMT -6)

(8 ago 2022 07:09 GMT)




3.4


104 km
41 km (25 mi)
North Pacific Ocean, 33 km a sud da Leon, Nicaragua
Momotombo Photos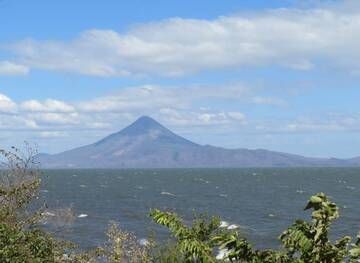 Stratovolcano Momotombo at Lake Managua, Nicaragua (Photo: WNomad)
Momotombo and Momotombito volcanoes at Lake Managua, Nicaragua (Photo: WNomad)
2003 earthquakes
A seismic swarm with over 120 earthquakes occurred at Momotombo volcano during 1-11 June 2003. 30 of these quakes were on 9 June and one shock on 8 June could be felt at the geothermal plant W of the volcano.
2000 earthquakes
A seismic swarm with more than 500 earthquakes occurred between 9-11 June 2000 at Momotombo volcano. Many of the earthquakes were between M 3.4 and 4.1 and occurred at depths less than 5 km, and were located directly under a geothermal plant on the S slope of the volcano, between Momotombo's crater and the coast of Lake Managua.
1996-1999 fumarolic activity
Fumarole temperatures in the crater had been rising since 1996 and reached peaks of up to 773°C measured in July 1997. Particularly high measurements were also include 740°C (Oct 1997), 748°C (March 1998), and 725°C on 24 April 1999.
(Smithsonian / GVP monthly reports)
1996 black plume
A small black plume was seen above the crater after an earthquake on 10 April 1996, but later observations could not detect any significant changes in the crater or signs of an eruption. ...
più
1994 steam plume
In March 1994, a large steam plume was rising from the summit crater and visible for many kilometers.
1993 fumarolic activity
Fumarolic activity in the crater remained strong in 1993. A large steam plume was observed continuously during the first week of September 1993. Temperature measurements at the fumaroles ranged from 200-604°C.
Many rock avalanches had occurred since 1992, damaging the trail to the crater and leaving scars tens of meters across and several meters deep, mostly near the summit.
1991-92 activity
Fumarolic activity decreased in 1991 and 1992.
1990 fumarolic activity
The temperature of fumaroles declined by about 50-150°C, reaching "only" 772°C as measured in April 1990 (down from 880° on 15 April 1989). Liquid sulfur was common to observe at most fumaroles. Some produced small sulfur flows with several lobes and smooth crusts of solid orange-brown sulfur, and a small pool of liquid sulfur at the F8 vent.
Field work revealed evidence for older, up to 5 m long sulfur flows which had been as much as 15 cm thick (near F12), and showed pahoehoe type morphology.
1989 high-temperature fumaroles
Temperatures of fumaroles at Momotombo volcano were very elevated in 1989, reaching 873°C measured on a visit during 4-5 March. Incandesce of the fumaroles was visible at night. Large areas of ground were hotter than 100°C.
1985-86 high-temperature fumaroles
Elevated temperatures at fumaroles were measured during 1985-86, typically over 800°C maxima, reaching up to 885°C in April 1986.
105 eruption
The latest confirmed eruption from Momotombo volcano in 1905 produced a lava flow that traveled from the summit to the lower NE base.

See also: Sentinel hub | Landsat 8 | NASA FIRMS