Kilauea volcano (Hawaii): lava meets water - littoral explosions (Mar 2017)
When hot, liquid lava at temperatures near 1200 deg C, directly coming from the lava tube, meets its arch-enemy water, the reaction is often violent: a battle of elements, generating ever-changing (so-called littoral) explosions in a chaos of steam, fragmented lava pieces which become new black sand, and colors.
The pictures were taken during 12-18 March from several viewpoints on water and on land. Among hundreds of similar photos, it was impossible to choose only a few, even though they cannot even come close to the fascination of watching it from relatively close. Few sights have impressed and mesmerized me as much as this battle between Pele and her sister Nā-maka-o-Kahaʻi, goddess of the sea.
Piu su VolcanoDiscovery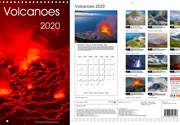 Volcano Calendars
: We have published several volcano calendars over the years: usually, we use photos taken by us or our participants during our recent volcano tours and expeditions. A perfect gift if you're a fan of volcanoes!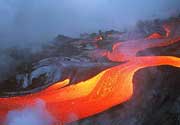 Kilauea volcano photos
: The most active volcano in the world with a record long lasting eruption since 1983: images of lava flows, lava lakes, explosions, lava meeting the ocean, aerials and more.