Faszination vulcano: Santorini tour maggio + Oct 08, parte 2: Plaka
Piu su VolcanoDiscovery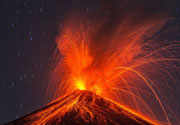 Fuego volcano photos
: One of Central America's most active volcanoes, Fuego in Guatemala is in near-permanent explosive eruption with intermittent phases of increasing activity that generate lava fountains, lava flows and pyroclastic flows.
Active volcanoes in China
: Did you know that there are at least 15 active volcanoes in China? The last eruption was from the Kunlun volcano in 1951.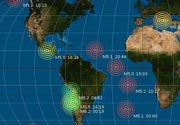 Monthy earthquake reports
: For each month since July 2012, we publish a summary of quake activity world-wide: find the list of largest quake, a map showing all significant quakes as well as detailed statistics on seismic activity during this time.