Sismo leggero mag. 4.6 - 52 km a nord da Orcopampa, Provincia de Castilla, Regione di Arequipa, Perù, sabato, 11 giu 2022 04:23 (GMT -5) -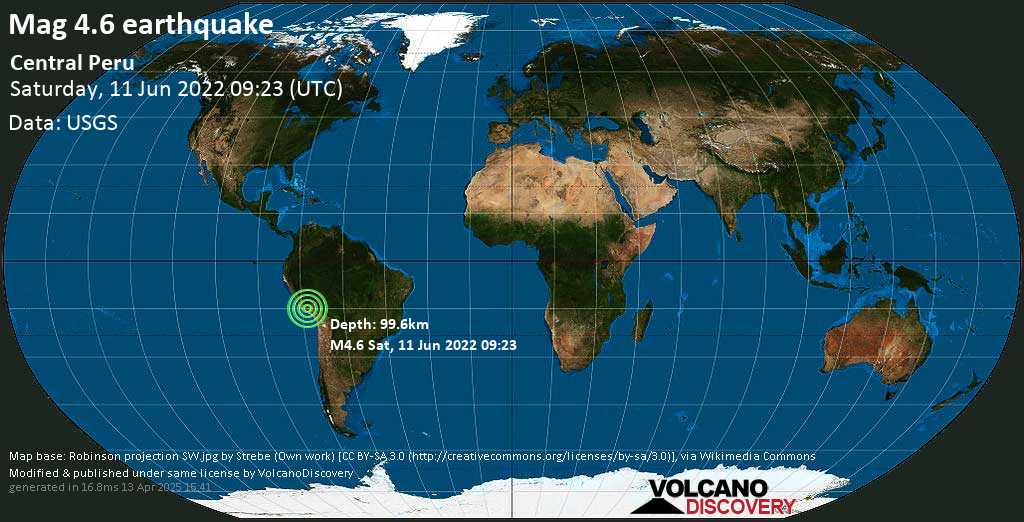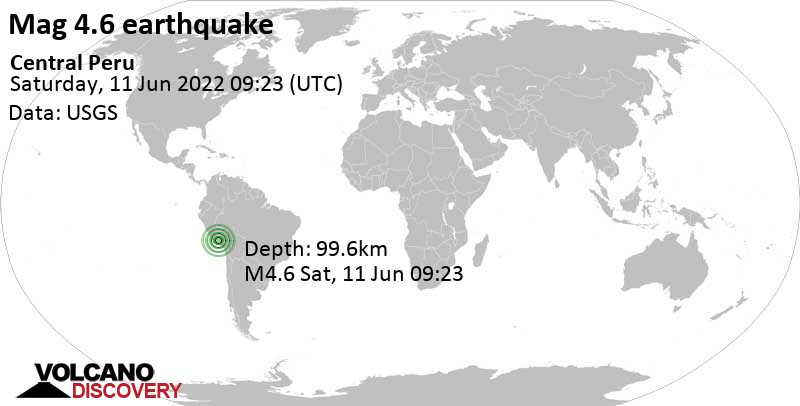 Sismo leggero magnitudine 4.6 a 102 km di profondità
11 Jun 09:41 UTC: Primo a segnalare: EMSC dopo 18 minuti.
11 Jun 09:42: Magnitudine ricalcolata da 4.1 a 4.5. Profondità ricalcolata da 104.0 a 77.0 km (da 65 a 48 mi). Posizione dell'epicentro corretta di 14 km (8.7 mi) al NE.
11 Jun 09:44: Magnitudine ricalcolata da 4.5 a 4.4. Profondità ricalcolata da 77.0 a 100.0 km (da 48 a 62 mi). Posizione dell'epicentro corretta di 9.2 km (5.7 mi) al SSE.
11 Jun 10:02: Ora utilizzando nuova fonte di dati: USGS
Update Sat, 11 Jun 2022, 09:48
Moderate magnitude 4.4 earthquake 87 km west of Espinar, Peru
4.4 quake 87 km west of Espinar, Cusco, Peru, Jun 11, 2022 4:23 am (GMT -5)
An earthquake of magnitude 4.4 occurred only 24 minutes ago 87 km west of Espinar, Peru, the European-Mediterranean Seismological Centre (EMSC) reported.
The quake hit at an intermediate depth of 100 km beneath the epicenter near Espinar, Provincia de Espinar, Cusco, Peru, early morning on Saturday, June 11th, 2022, at 4:23 am local time. The exact magnitude, epicenter, and depth of the quake might be revised within the next few hours or minutes as seismologists review data and refine their calculations, or as other agencies issue their report.
A second report was later issued by the citizen-seismograph network of RaspberryShake, which listed it as a magnitude 4.5 earthquake. A third agency, the German Research Centre for Geosciences (GFZ), reported the same quake at magnitude 4.5.
Towns or cities near the epicenter where the quake might have been felt as very weak shaking include Yavina (pop. 110) located 18 km from the epicenter, Santo Tomas (pop. 4,100) 35 km away, Orcopampa (pop. 5,600) 61 km away, and Espinar (pop. 23,900) 87 km away.
VolcanoDiscovery will automatically update magnitude and depth if these change and follow up if other significant news about the quake become available. If you're in the area, please send us your experience through our reporting mechanism, either
online
or via
our mobile app
. This will help us provide more first-hand updates to anyone around the globe who wants to know more about this quake.
Dettagli del sismo
Data e ora
11 Jun 2022 09:23:53 UTC -
Ora locale

all'epicentro

sabato, 11 giu 2022 04:23 (GMT -5)
Status
Confermato
Magnitudine
4.6
Prof.
102.3 km
Epicentro

latitudine / longitudine

14.8166°S / 72.4821°W (Provincia de La Union, Regione di Arequipa, Perù)
Antipodo
14.817°N / 107.518°E
Intensità

di scuotimento

Scuotimento debole vicino all'epicentro
Sentito
0 rapporti
Fonte dati primaria
USGS (United States Geological Survey)
Vulcano più vicino
Andahua-Orcopampa (69 km / 43 mi)
Luoghi vicini
38 km NE da Pettcce (pop: 207) |

Mappa

| Sismi nelle vicinanze
49 km NE da Huaynacotas (pop: 849) |

Mappa

| Sismi nelle vicinanze
52 km NNO da Orcopampa (Castilla) (pop: 5,640) |

Mappa

| Sismi nelle vicinanze
59 km SO da Santo Tomas (Cusco) (pop: 4,130) |

Mappa

| Sismi nelle vicinanze
66 km SO da Llusco (Cusco) (pop: 967) |

Mappa

| Sismi nelle vicinanze
132 km NO da Chivay (pop: 4,540) |

Mappa

| Sismi nelle vicinanze
203 km NNO da Arequipa (pop: 841,100) |

Mappa

| Sismi nelle vicinanze
581 km ESE da Lima (Lima Province) (pop: 7,737,000) |

Mappa

| Sismi nelle vicinanze
Meteo all'epicentro

al momento del sismo

Clear Sky -6.2°C (21 F), humidity: 56%, wind: 1 m/s (2 kts) from WNW
Energia sismica

rilasciata stimata

5 x 1011 joules (139 MWh, equivalent to 120 tons of TNT) | about seismic energy
Data for the same earthquake reported by different agencies
Info: The more agencies report about the same quake and post similar data, the more confidence you can have in the data. It takes normally up to a few hours until earthquake parameters are calculated with near-optimum precision.
| | | | |
| --- | --- | --- | --- |
| Mag. | Prof. | Ubicazione | Fonte |
| 4.6 | 102 km | 35 Km NE of Puyca, Peru | USGS |
| 4.5 | 77 km | Central Peru | GFZ |
| 4.6 | 102 km | Central Peru | RaspberryShake |
| 4.6 | 80 km | CENTRAL PERU | EMSC |
Seismograms
Seismic station: Nana, Peru (NNA/II network)
| Distance from quake: 567 km / 352 mi |
Show on map
|
Station Info
Seismogram (vertical component) around time of quake. Thin dotted red line indicates time of quake. Seismic waves arrive some time later, depending on distance. Source:
IRIS Buffer of Uniform Data (BUD) webtool
User reports for this quake
There are no user reports for this quake.