Day 1:

Arrival to Tenerife

Arrival at Tenerife North airport. Own transfer to the hotel in La Laguna. Meeting with the group in the evening for welcome dinner.
Day 2:

La Esperanza ridge road

Drive along La Esperanza ridge road to discover the island and its geological features. Stay at Vilaflor.
Day 3:

Teide caldera

The visit of the caldera Teide. In the morning we take a cable car to Teide to discover this wonderful place. In the afternoon we have 3h hiking tour around Roques de Garcia (path n°3).
Day 4:

El Teno

Hiking in El Teno old volcanic massif - one of the island's most beautiful natural areas.
Day 5:

Flight to El Hierro

Transfer day to fly to El Hierro. Visit of hydro / wind turbins and Mirador de la Pena (El Golfo landslide) to visit Ecomueum Guinea or Lagartorio with endemic lizards.
Day 6:

Scenic tour to the Malpaso highest tops

Hiking tour to visit of the highest tops of El Hierro and the Tanganasoga volcano.
Day 7:

La Restinga - a little "Hawaii"

In the morning a visit of El Pinar La Restinga: interesting small museum la restingolita or a visitor center close to El Pinar.

In the afternoon : El Julan landslide / La Orchilla lava tube / road to Sabinosa/ Frontera.
Day 8:

La Palma

Flight El Hierro - Tenerife - La Palma. Transfer to the hotel. Free time. Visit Sta Cruz de la Palma.
Day 9:

Barranco de las Angustias

Geological hiking on Barranco de las Angustias and the Visitor Center close to Los Llanos. Walk around Los llanos de Aridane nice historic downtown.
Day 10:

Hiking into the caldera Tamburiente

Walking tour into the centre of the famous caldera Tamburiente.
Day 11:

The youngest volcanoes of La Palma

Visit of St. Antonio volcanoes and the youngest volcano Teneguia.
Day 12:

Flight to Lanzarote. Visit Jameo del Agua et Mirador del Rio

Flight La Palma - Tenerife - Lanzarote. Discover the natural beauty and geological marvels of northern Lanzarote: Jameo del Agua, and Mirador del Rio.
Day 13:

Hiking through the lava fields to the Caldera Blanca

Drive through the scenic landscape of Lanzarote to start of the hiking trail to the Caldera Blanca.
Day 14:

Departure or own extension

Departure or own extension.
Arrival info:
The tour starts at the Tenerife North airport and ends in Arrecife of Lanzarote island.
Tour guide
Dr. Evelyne Pradal is a trained geologist and volcanologist with a passion of showing and teaching her subject to the general public. Born in Cantal, in the heart of the Auvergne French volcanic field, she studied in the renowned Center of Earth Sciences of the university of Clermont-Ferrand, one of France's leading research institutes in the field of volcanology.
Her research and trips led her to study volcanoes in Mexico, the Caribbean,
East African Rift
and other areas.
After completing her doctorate degree in 1990 she went on to work as consultant and teacher in earth sciences, and she has been organizing expeditions and study trips to volcanoes in
Italy, France, the Caribbean, Ethiopia and Tanzania, Djibouti, Canaries islands, New Hebrides trench, Indonesia,
... designed to share knowledge and the fascination of her subject, the beauty of our living earth, to the general public. She is also (co-)authored the books:
"Tout savoir sur les volcans"
(2018, Ed. Fleurus jeunesse) ("A la découverte des volcans extrêmes" (2013, Vuivert De Boeck Ed) "Au coeur des volcans" (2004, Ed. Fleurus - Geo Ados). Evelyne with her charming smile joined our team in 2010 and guides trips to Ethiopia, the Caribbean, Canaries islands, Italy and new study trips such on Auvergne volcanoes, her homeland, and Tanzanian Rift Valley.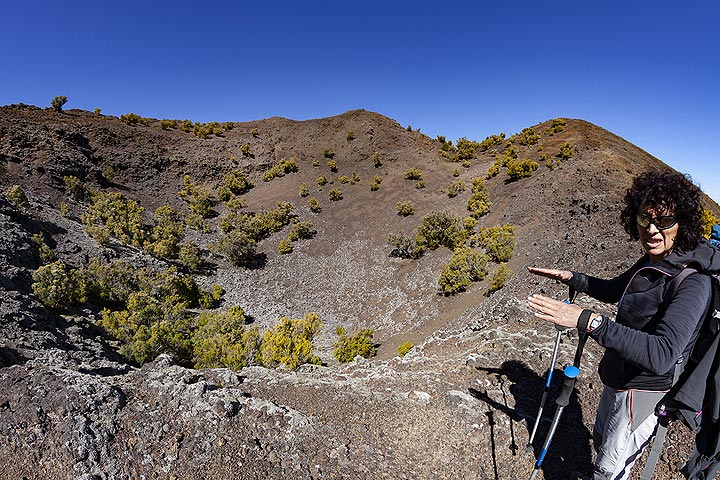 Evelyne Pradal at the Tanganasoga crater on El Hierro (Feb 2019)