Kaiserstuhl volcano
Updated: Aug 18, 2022 22:50 GMT -
Refresh
stratovolcano 545 m
Germany, 48.1°N / 7.68°E
Current status: (probably) extinct (0 out of 5)
An very old stratovolcano that dominated the Rhine river plain.
Typical eruption style:
Explosive
Kaiserstuhl volcano eruptions:
Last eruptions 16-19 million years ago
Lastest nearby earthquakes:
Time
Mag. / Depth
Distance/Location
Monday, August 15, 2022 GMT (1 quake)
Aug 15, 2022 8:55 pm (GMT +2)

(Aug 15, 2022 18:55 GMT)




1.0


19 km
32 km (20 mi)
Germany: Muellheim D
Sunday, August 14, 2022 GMT (1 quake)
Aug 14, 2022 5:45 am (GMT +2)

(Aug 14, 2022 03:45 GMT)




1.7


22 km
31 km (19 mi)
Germany: Near Strasbourg
Background
Petrologically the Kaiserstuhl is an alcali-carbonatite volcano that erupted about 16-19 million years ago in the Miocaene. There have been many pyroclastic flows and lava flows around the volcanic complexe. Some of the subvolcanic intrusions form the todays parts of the volcano. This stratovolcano originally had an altitude of 1000 - 2000 m. The Rhein river graben system was one of the causes why there was volcanic activitiy around the area of western "black forest" / Schwarzwald.
Kaiserstuhl Photos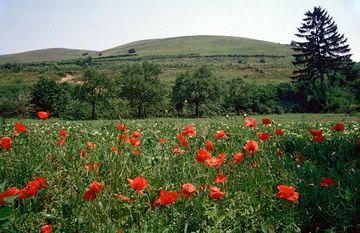 The volcano complex Kaiserstuhl is situated in the south west of Germany near the city of Freiburg. It is one of the most interesting volcanoes in Germany and for example...
Opale (hyalite) from the German volcano Kaiserstuhl (Photo: Tobias Schorr)
The mild climate of the Kaiserstuhl volcano region in southwest Germany makes it an ideal area for wine and fruit growing. (Photo: Janka)
Midsummer on the hillsides of Kaiserstuhl volcano, Germany (Photo: Janka)

See also: Sentinel hub | Landsat 8 | NASA FIRMS