Karang volcano
Updated: Jul 3, 2022 18:44 GMT -
Refresh
stratovolcano 1776 m / 5,833 ft
West Java (Indonesia), -6.27°S / 106.05°E
Current status: (probably) extinct (0 out of 5)
Gunung Karang volcano lies in westernmost Java near Pulosari volcano SE of the geologically young 15-km-wide Danau caldera. The eroded and forested stratovolcano of andesitic and basaltic composition is the highest of a group of stratovolcanoes in the Danau caldera area.
Typical eruption style:
Explosive
Karang volcano eruptions:
Lastest nearby earthquakes:
Time
Mag. / Depth
Distance/Location
Thursday, June 30, 2022 GMT (1 quake)
Jul 1, 2022 4:51 am (GMT +7)

(Jun 30, 2022 21:51 GMT)




4.6


127 km
68 km (42 mi)
Indian Ocean, 82 km west of Serang, Banten, Indonesia
Background
Karang probably has had activity less than 10,000 years ago. It contains 2 craters on its eastern flank, Kawah Welirang and Kawah Haji, where active fumaroles are found.
Karang Photos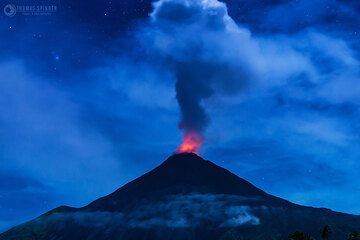 Karangetang side lit by the setting moon (Photo: Thomas Spinner)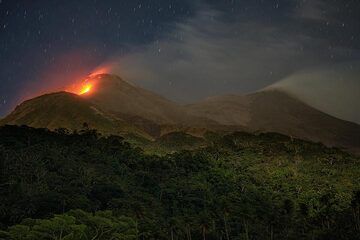 The active northern crater of Karangetang in Feb 2019. (Photo: Thomas Spinner)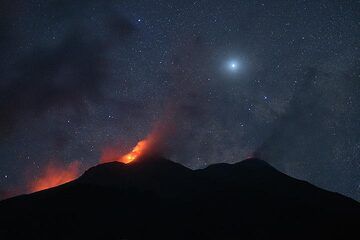 Night-time view of Karangetang with Venus. (Photo: Thomas Spinner)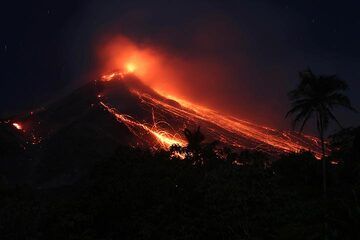 Gunung Karangtang (South Crater) with lava flows, View From A Hillside Above Winangun Village, Siau Island, North Maluku, Indonesia (Photo: Jay Ramji)

See also: Sentinel hub | Landsat 8 | NASA FIRMS