Volcano news: Karymsky
Karymsky volcano (Kamchatka): continuing ash emissions
Saturday Aug 01, 2020 14:38 PM | BY: MARTIN
Dense dark ash column from Karymsky volcano on 30 July (image: @madiev451/instagram)
On
30 July at 10:30 local time
Volcanic Ash Advisory Center Tokyo (VAAC) recorded continuous explosive activity from the active crater with near-constant ash emissions that reached
10,000 ft (3,048 m)
altitude and drifted SE.
Previous news
Background:
Karymsky, the most active volcano of  Kamchatka's eastern volcanic zone, is a symmetrical stratovolcano constructed within a 5-km-wide caldera that formed during the early Holocene.  The caldera cuts the south side of the Pleistocene Dvor volcano and is located outside the north margin of the large mid-Pleistocene Polovinka caldera, which contains the smaller Akademia Nauk and Odnoboky calderas. 
Most seismicity preceding Karymsky eruptions originated beneath Akademia Nauk caldera, which is located immediately south of Karymsky volcano.  The caldera enclosing Karymsky volcano formed about 7600-7700 radiocarbon years ago; construction of the Karymsky stratovolcano began about 2000 years later.  The latest eruptive period began about 500 years ago, following a 2300-year quiescence.  Much of the cone is mantled by lava flows less than 200 years old.  Historical eruptions have been vulcanian or vulcanian-strombolian with moderate explosive activity and occasional lava flows from the summit crater.
---
Source: GVP, Smithsonian Institution
More on VolcanoDiscovery: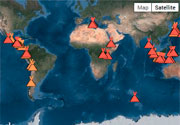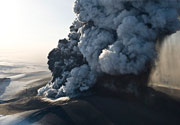 Eyjafjallajökull volcano photos
: The volcano in Iceland with the unpronounceable name... but famous in 2010 when its ash clouds drifted over Europe and forced a unprecedented large-scale airspace closure for several days, stranding millions of passengers.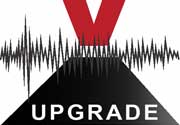 Volcanoes & Earthquakes
: Upgrade the Volcanoes & Earthquakes app!
Once installed for a tiny one-time cost, it unlocks additional features, removes ads in the free version of the app.