Kebeney volcano
Shield volcano 1527 m / 5,010 ft
Kamchatka, Russia, 57.1°N / 159.93°E
Current status
: (probably) extinct (0 out of 5) |
Reports
Kebeney volcano books
Typical eruption style
: unspecified
Kebeney volcano eruptions
: unknown, no recent eruptions
| | | | |
| --- | --- | --- | --- |
| Time | Mag. / Depth | Distance | Location |
Background:
Kebeney is a prominent late-Quaternary Icelandic-type basaltic to basaltic-andesite shield volcano in the central Sredinny Range with two groups of NE-SW-trending cinder cones on the SW and SE flanks. Other cinder cones are located on the NE flank of the 1527-m-high volcano, and young lavas also surround the Pleistocene Kalgnitunup stratovolcano to the SW. Early geologic studies in the Sredinny Range (Ogorodov et al., 1972) identified numerous Holocene eruptive centers based primarily on morphological criteria. However, later work has suggested that Sredinny Range volcanoes are less mantled by Holocene tephras than eastern Kamchatka volcanoes and therefore appear more youthful, so that Holocene eruptions are uncertain for many of these Sredinny Range eruptive vents.
---
Smithsonian / GVP volcano information
See also:
Sentinel hub
|
Landsat 8
More on VolcanoDiscovery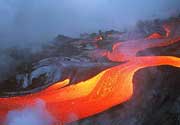 Kilauea volcano photos
: The most active volcano in the world with a record long lasting eruption since 1983: images of lava flows, lava lakes, explosions, lava meeting the ocean, aerials and more.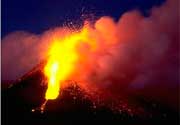 Definition of a volcano
: A volcano is the term for any place on the surface of the earth, where hot molten rock (magma) reaches the surface.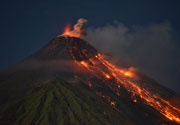 Volcano Eruption Special
: 11-16 Feb 2019: short-notice special tour to see the ongoing eruption of Karangetang volcano in northern Indonesia. Starting and ending in Manado. Small group 2-6 people, experienced volcano expedition leader from our team (Andi).