Khailyulya volcano
Typical eruption style
: unspecified
Khailyulya volcano eruptions
: None during the past 10,000 years
Less than few million years ago (Pleistocene)
| | | | |
| --- | --- | --- | --- |
| Time | Mag. / Depth | Distance | Location |
Background:
Small Pleistocene volcano (Erlich 1985, pers. comm.).
---
Source: Smithsonian / GVP volcano information
See also:
Sentinel hub
|
Landsat 8
More on VolcanoDiscovery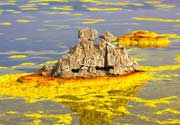 Dallol hot springs
: One of the most bizarre landscapes on earth: Dallol is a vast and very active hydrothermal field creating a colorful array of hot springs, small geysers, salt towers, colorful lakes and ponds in the middle of the deepest part of the Danakil desert and the Karum salt lake.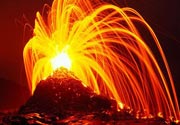 Volcano Tours on Hawai'i
: The Hawaiian Islands are not only home to the most active volcanoes in the world, Kilauea and Mauna Loa on the Big Island, but also boast a unique natural environment. Born by volcanic activity of a very active hot spot in the middle of the Pacific Plate, they are a showcase of natural history.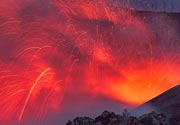 Volcanoes & Spices
: This 17-days adventurous expedition is one of our most exciting volcano tours! Visit Halmahera, North Sulawesi and the Sangihe Islands with some of Indonesia's most active volcanoes, including Dukono, Ibu, Lokon, Soputan and Karangetang.