Kharimkotan volcano
Updated: Aug 18, 2022 02:41 GMT -
Refresh
stratovolcano 1145 m / 3,757 ft
Northern Kuriles (Kuril Islands), 49.12°N / 154.51°E
Current status: normal or dormant (1 out of 5)
Last update: 14 Dec 2021 (Smithsonian / USGS Weekly Volcanic Activity Report)

Kharimkotan (also spelled Harimkotan) volcano is a stratovolcano forming a 8 x 12 km island in the northern Kuriles. Only the upper 25% of the massive volcano rises above sea level. In its geologic past, the volcano has suffered several slope failures and created devastating debris avalanches.
The 1933 eruption was one of the largest of the Kurile Islands in historic times. It destroyed the former summit cone of the volcano
Typical eruption style:
explosive
Kharimkotan volcano eruptions:
1933, 1931, 1883, 1848, 1846, 1713
Lastest nearby earthquakes:
No recent earthquakes
Background
Kharimkotan volcano is cut by 2 breached horseshoe-shaped depressions caused by debris avalanches from slope failure on the E and NW sides. Their related debris-avalanche deposits form large broad peninsulas on the east and NW coasts.
More evidence of slope failures followed by plinian eruptions are found in sea cliffs of the island.
Kharimkotan Photos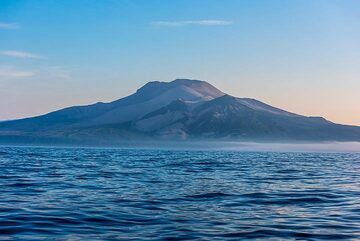 Kharimkotan at sunset. (Photo: Tom Pfeiffer)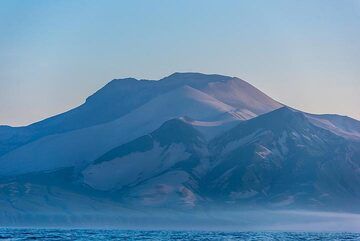 Ashy slopes of Kharimkotan in the warm evening light. (Photo: Tom Pfeiffer)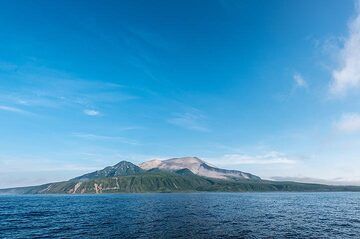 The next day in the evening, after Raikoke, we reach Kharimkotan, a large volcano, which forms a 8x12 km island. (Photo: Tom Pfeiffer)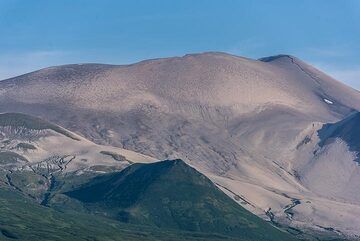 The 1933 eruption of Kharimkotan had destroyed the former summit cone of the volcano. (Photo: Tom Pfeiffer)
1933 eruption & tsunami
The eruption was one of the largest known of the Kurile Islands. It destroyed the summit cone (Severgin cone) and caused a debris avalanche that reached the sea and produced a tsunami that devastated the island's coast and reached Onekotan and Paramushir Islands, killing two persons.

See also: Sentinel hub | Landsat 8 | NASA FIRMS