Volcano news & updates: Kilauea volcano (Big Island, Hawaii)
Kīlauea volcano (Hawai'i), activity update: new lava flow
Thu, 4 Aug 2011, 03:06
03:06 AM |
The new lava flow west of Pu'u 'O'o seen from the Napau crater.
At 2pm local time, the western base of Pu`u `O`o cone began to erupt a new lava flow, which has advanced at least 3km/1.8mi downslope in the first 2 hours. Meanwhile, Pu`u `O`o's crater floor and perched lava lake have collapsed, sending up clouds of brown ash. There is no earthquake swarm associated with this new breakout, suggesting a collapse of the old edifice as opposed to a new gas-fed fissure, as the Kamoamoa Eruption earlier in March. Other supporting evidence is a smaller magnitude change in tilit and no sustained high-amplitude tremor at the eruption site.
As the sun sets in Hawai`i, there should be spectacular views in at least 3 different webcams on Kīlauea volcano, where lava is visible! Check the links below, including one to our picture from Napau crater of overflows last week!
We will monitor the situation and post further updates as major changes occur. At present, the National Park has closed the Chain of Craters Rd, so there is no legal way to access the eruption site on the ground until further notice. Air tours should still be possible.
---
Links / Sources:
Previous news
More on VolcanoDiscovery
Blue flames of burning sulfur
: Ijen volcano in East Java has one of the most impressive sulfur deposits on earth. They are so hot that the sulfur often ignites - a mysterious display at night caught on camera.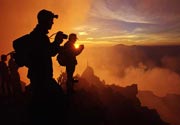 Volcano Trekking
: A physically active tour to visit and climb some of Indonesia's most active and famous volcanoes: Papandayan and Galunggung in West Java, Merapi in Central Java, Kelud, Semeru, Bromo, the Tengger caldera, and Ijen in East Java.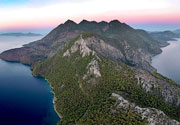 Land of Theseus
: The Saronic Gulf opposite Athens is one of the most beautiful and interesting areas of Greece, full of beautiful landscapes, small towns, islands, archeological remains and one of Europe's least known active volcanic areas. Join us on a relaxing tour to discover this fascinating area!