Klyuchevsky volcano news & activity updates
Klyuchevskoy volcano Volcanic Ash Advisory: ERUPTION AT 20170308/2345Z FL180 EXTD WNW REPORTED OBS VA DTG: 08/2340Z
Thursday Mar 09, 2017 00:15 AM |
Satellite image of Klyuchevskoy volcano on 9 Mar 2017
Volcanic Ash Advisory Center Tokyo (VAAC) issued the following report:
FVFE01 at 00:02 UTC, 09/03/17 from RJTD
VA ADVISORY
DTG: 20170309/0002Z
VAAC: TOKYO
VOLCANO: KLYUCHEVSKOY 300260
PSN: N5603 E16039
AREA: RUSSIA
SUMMIT ELEV: 4754M
ADVISORY NR: 2017/39
INFO SOURCE: HIMAWARI-8 KVERT UHPP
AVIATION COLOUR CODE: NIL
ERUPTION DETAILS: ERUPTION AT 20170308/2345Z FL180 EXTD WNW REPORTED
OBS VA DTG: 08/2340Z
OBS VA CLD: VA NOT IDENTIFIABLE FM SATELLITE DATA WIND FL180 160/73KT
FCST VA CLD +6 HR: NOT AVBL
FCST VA CLD +12 HR: NOT AVBL
FCST VA CLD +18 HR: NOT AVBL
RMK: WE WILL ISSUE FURTHER ADVISORY IF VA IS DETECTED IN SATELLITE
IMAGERY.
NXT ADVISORY: NO FURTHER ADVISORIES=
Previous news
NASA photo of the eruption of Klyuchevsky volcano on 30 September, 1994, the volcano's largest explosion in 40 years. The large
Background:
Kliuchevskoi is Kamchatka's highest and most active volcano.  Since its origin about 6000 years ago, the beautifully symmetrical, 4835-m-high basaltic stratovolcano has produced frequent moderate-volume explosive and effusive eruptions without major periods of inactivity.  Kliuchevskoi rises above a saddle NE of sharp-peaked Kamen volcano and lies SE of the broad Ushkovsky massif.  More than 100 flank eruptions have occurred at Kliuchevskoi during the past roughly 3000 years, with most lateral craters and cones occurring along radial fissures between the unconfined NE-to-SE flanks of the conical volcano between 500 m and 3600 m elevation.  The morphology of its 700-m-wide summit crater has been frequently modified by historical eruptions, which have been recorded since the late-17th century.  Historical eruptions have originated primarily from the summit crater, but have also included numerous major explosive and effusive eruptions from flank craters.
---
Source: Klyuchevsky information by the GVP (Smithsonian Institution)
More on VolcanoDiscovery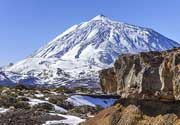 Best tours to see lava
: Visiting an erupting volcano is an unforgettable experience. If you're particularly looking to see "Red Hot Lava", these are among the best places to go to.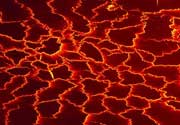 Nyiragongo volcano photos
: Nyiragongo (DR Congo) has the world's largest and most active lava lake. Enjoy our pictures taken during several expeditions over the past years.