Kolombangara volcano
Updated: Jun 6, 2023 00:30 GMT
-
stratovolcano 1,768 m / 5,801 ft
Western Province, Solomon Islands, -7.95°S / 157.08°E
Current status: normal or dormant (1 out of 5)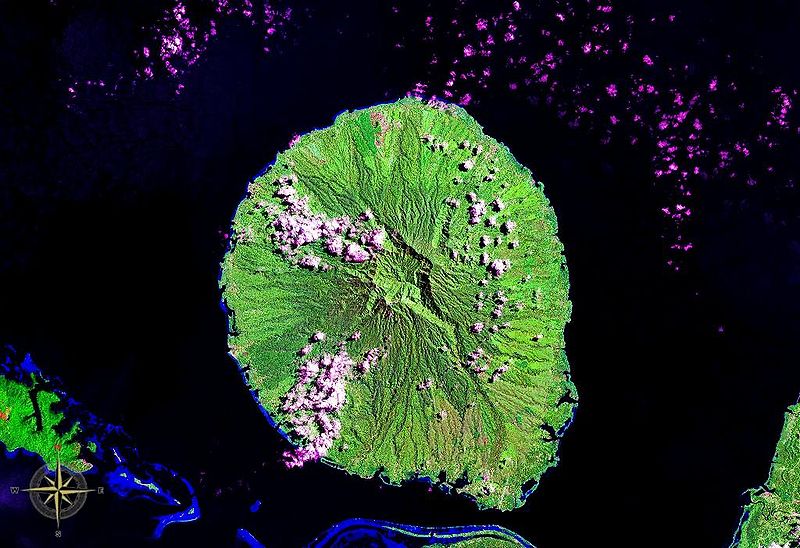 Kolombangara Island in the Solomon Islands. The summit caldera is clearly visible. (NASA satellite image)
Kolombangara (also spelled Kulambangara) is a possibly active stratovolcano that forms the almost perfectly round, 15 km diameter Kolombangara Island in the New Georgia Islands group of the Solomon Islands.
Its name in local language roughly translated to "Water Lord", referring to the many (about 80) rivers and streams that drain its flanks.
There are hot springs near the Ndughore peak on the southern side of the island.
Typical eruption style:
effusive
Kolombangara volcano eruptions:
unknown, possibly within the past 10,000 years
Latest nearby earthquakes
No recent earthquakes
Background
Kolombangara's summit is truncated by a 4 km wide caldera with 4 peaks (Mt Veve, Rano, Mbatuvana, and Tapalamenggutu). The island is part of the southern boundary of the New Georgia Sound; to the northwest the Vella Gulf separates it from Vella Lavella and Gizo, while to the southeast New Georgia lies across the Kula Gulf. West-Southwest of Kolombangara is Ghizo Island, upon which the Western provincial capital Gizo is located.
Kolombangara is heavily forested and has only few inhabitants, which mostly live in 2 villages, Ringgi and Mongga.


See also: Sentinel hub | Landsat 8 | NASA FIRMS