Koryaksky volcano
Updated: Aug 15, 2022 03:30 GMT -
Refresh
stratovolcano 3456 m ( 11,338 ft)
Kamchatka (Russia), 53.32°N / 158.69°E
Current status: normal or dormant (1 out of 5)
Last update: 13 Dec 2021 (Smithsonian / USGS Weekly Volcanic Activity Report)

View of Petropavlovsk-Kamchatsky's harbour from Avacha Bay, with Mount Koryasky rising in the background (source: Wikipedia, see links)
Koryaksky in the SE of the Kamchatka peninsula and near its capital Petropavlovsk is one of Kamchatka's most beautiful and prominent stratovolcanoes.
Typical eruption style:
explosive
Koryaksky volcano eruptions:
1890, 1926, 1956-57, 2008 (ongoing)
Lastest nearby earthquakes:
No recent earthquakes
Background
The large symmetrical Koryaksky stratovolcano is the most prominent landmark of the NW-trending Avachinskaya volcano group, which towers above Kamchatka's largest city, Petropavlovsk.
Erosion has produced a ribbed surface on the eastern flanks of the 3456-m-high volcano; the youngest lava flows are found on the upper western flank and below SE-flank cinder cones. No strong explosive eruptions have been documented during the Holocene. Extensive Holocene lava fields on the western flank were primarily fed by summit vents; those on the SW flank originated from flank vents. Lahars associated with a period of lava effusion from south- and SW-flank fissure vents about 3900-3500 years ago reached Avacha Bay. Only a few moderate explosive eruptions have occurred during historical time. Koryaksky's first historical eruption, in 1895, also produced a lava flow.
(Source: Global Volcanism Program)
Koryaksky Photos
Koryaksky Volcano rising above city of Petropavlovsk, Kamchatka (Photo: Richard Roscoe)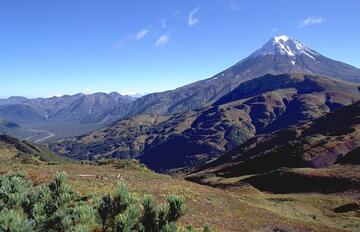 South side of Vilyuchinsky volcano(2173 m), Kamchatka, on the right. The volcanoes Aag (2310 m, left), Koryaksky (3456 m, center) and Avachinsky (2741 m, right) rise abov...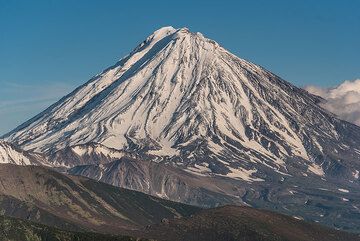 Koryaksky volcano from the SW. Thanks to the past rain storm, the snow cover has grown considerably. (Photo: Tom Pfeiffer)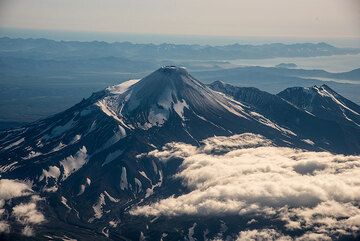 Koryaksky's neighbor volcano, Avachinsky follows a few moments later to the left. (Photo: Tom Pfeiffer)
Koryaksky volcano tours:

Kamchatka - Land of Colors
(volcano expedition to Kamchatka)

See also: Sentinel hub | Landsat 8 | NASA FIRMS