Latest quakes near Krakatau volcano in the past 7 days
- list, stats and map
Updated Aug 16, 2022 03:39 GMT -
Earthquake Catalog - Look up past earthquakes
Look up past earthquakes in this area by date or date range:
NASA satellite image of the Sunda Strait, Indonesia
NASA satellite image of the island group of Krakatau.
Close-up of Anak Krakatau volcanic island, with its recent lava flows well visible.
Krakatoa - the world's most infamous volcano
The island group of Krakatoa (or Krakatau) lies in the Sunda Strait between Java and Sumatra.  Krakatoa is infamous for its violent Plinian eruption in 1883, that destroyed the previous volcanic edifice and enlarged its caldera.
Collapse of the former volcanic edifice, perhaps in 416 AD, had formed a 7-km-wide caldera.  Remnants of this ancestral volcano are preserved in Verlaten and Lang Islands; subsequently Rakata, Danan and Perbuwatan volcanoes were formed, coalescing to create the pre-1883 Krakatoa island.  Caldera collapse during the catastrophic 1883 eruption destroyed Danan and Perbuwatan volcanoes, and left only a remnant of Rakata volcano. 
This eruption, the 2nd largest in Indonesia during historical time (the most violent being the eruption of Tambora in 1815), caused more than 36,000 fatalities, most as a result of devastating tsunamis that swept the adjacent coastlines of Sumatra and Java.  Pyroclastic surges traveled 40 km across the Sunda Strait and reached the Sumatra coast.  After a quiescence of less than a half century, the post-collapse cone of Anak Krakatoa ("Child of Krakatoa") was constructed within the 1883 caldera at a point between the former cones of Danan and Perbuwatan.  Anak Krakatau has been the site of frequent eruptions since 1927.
(adapted from GVP)
West Java (Indonesia)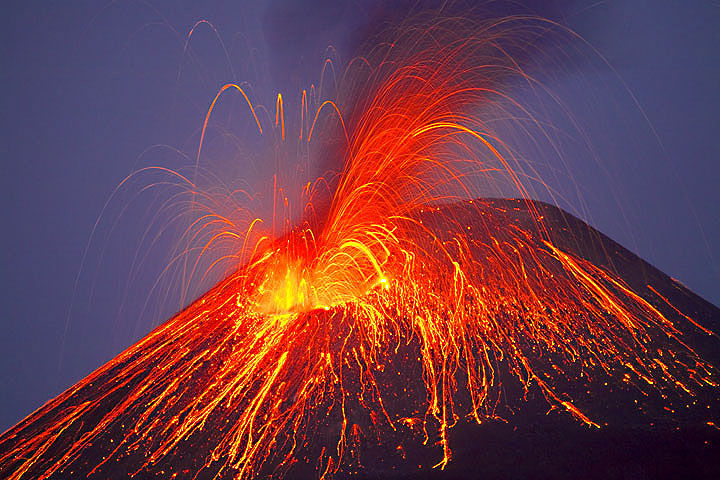 expedition to study & observe Anak Krakatau volcano and its activity
This is your chance to get to know
one of the most famous volcanoes with an expert and witness the dramatic changes from the Dec 2018 collapse.
During this physically easy expedition, you have the unique opportunity to experience one of the world's most beautiful and powerful volcanoes. The exact itinerary varies from tour date to tour date, but we usually spend
between 2 and 4 full days and nights on and around the volcanic islands of Krakatau
. Depending on the intensity of Anak Krakatau's activity we either camp on the beach of the active volcano itself or make our camp on one of the surrounding islands. Watching
Krakatau's fireworks
when it is active is
truly spectacular
and we will do so from
various viewpoints
both on Anak Krakatau itself and the neighboring islands, using the
chartered boat
we have
at our disposal
.
Even when there is no eruption, the active volcano of Anak Krakatau with its
lunar landscapes, fumaroles and frozen lava flows
, and the surrounding islands'
spectacular pumice cliffs
on what remains of the island complex destroyed in 1883, is well worth exploring. Your expedition leader and tour guide Andi has been closely watching this volcano's activity and changes over the past 15 years and will happily share his geological knowledge with you!
Hot springs and beautiful coral reefs
and other natural highlights of this unique bioreserve make this a perfect trip if you like a volcano extension out from Jakarta. The tasty camping food with
fresh fish and overall excellent organization
by our experienced local crew round up this trip into an unforgettable travel adventure.
more info