Krakatau volcano news & eruption updates:
Krakatau volcano Volcanic Ash Advisory: CONTINUOUS WEAK VA EMISSION TO FL070 OBS VA DTG: 23/1930Z
Sunday Sep 23, 2018 19:30 PM |
Volcanic Ash Advisory Center Darwin (VAAC) issued the following report:
FVAU0295 at 19:24 UTC, 23/09/18 from ADRM
VA ADVISORY
DTG: 20180923/1930Z
VAAC: DARWIN
VOLCANO: KRAKATAU 262000
PSN: S0606 E10525
AREA: INDONESIA
SUMMIT ELEV: 813M
ADVISORY NR: 2018/167
INFO SOURCE: HIMAWARI-8, WEBCAM
AVIATION COLOUR CODE: ORANGE
ERUPTION DETAILS: CONTINUOUS WEAK VA EMISSION TO FL070
OBS VA DTG: 23/1930Z
OBS VA CLD: SFC/FL070 S0605 E10528 - S0552 E10514 - S0533
E10457 - S0542 E10425 - S0624 E10434 - S0611 E10519 - S0609
E10527 MOV W 10KT
FCST VA CLD +6 HR: 24/0130Z SFC/FL070 S0605 E10528 - S0609
E10527 - S0631 E10432 - S0551 E10413 - S0528 E10453
FCST VA CLD +12 HR: 24/0730Z SFC/FL070 S0604 E10526 - S0535
E10442 - S0605 E10409 - S0640 E10430 - S0608 E10527
FCST VA CLD +18 HR: 24/1330Z SFC/FL070 S0604 E10526 - S0608
E10527 - S0646 E10445 - S0619 E10410 - S0541 E10437
RMK: VA SIGNAL IS DISCERNIBLE ON CURRENT SATELLITE IMAGERY
CLOSE TO VOLCANO EXT WNW. GLOW AT SUMMIT VISIBLE ON WEBCAM.
HEIGHT/FORECAST BASED ON HIMAWARI-8 23/1900Z IMAGERY,
JAKARTA 23/1200Z SOUNDING AND MODEL GUIDANCE.
NXT ADVISORY: NO LATER THAN 20180924/0130Z
Previous news
More on VolcanoDiscovery: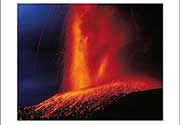 Vulkane Italiens - order online
: 88 pages, brilliant color photos, German language - this beautifully illustrated guidebook is a perfect introduction and companion for all interested in Italy's rich and varied volcanic areas.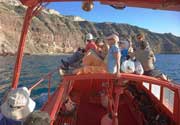 Walking & Study tours
: VolcanoDiscovery's signature tours for small groups: Discover volcanoes and volcanic areas from close with an expert in their field! These tours have a broad mix of activities and interests from photography, walking, study travel, nature & culture.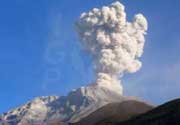 Ubinas activity updates
: The most frequently active volcano in Peru entered a new eruptive phase in 2014. Updates and news are regularly posted on this page.